It's always fun to reminisce. Hearing an old song on the radio, stumbling on a trove of forgotten photos, or catching up with long-lost friends can bring back a flood of memories and laughter. For Thurston County families, the annual Lacey Spring Fun Fair probably factors into quite a few such stories. For more than 30 years it's offered free family entertainment, music, vendors, a car show, rides and so much more.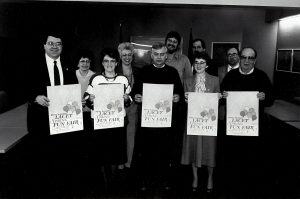 The Fair began in 1988, the year the Smashing Pumpkins were founded, Summer Olympics were held in Seoul, South Korea, and Die Hard graced the silver screen. Like today, Joe Biden was a recent presidential contender, Star Trek (well, the Next Generation) was on TV, and Stephen King released books left and right.
From the start, dedicated volunteers worked hard to make the fledgling Lacey Spring Fun Fair a success. Some of those same hardworking souls are still at it today. Organizer Ruth Weigelt and Lacey Parks and Recreation Supervisor Jeannette Sieler fondly remember the early festivals.
"The focus in our initial meetings was to celebrate our community with a free, fun event for people of all ages," says Weigelt. "With the help of our community we are able to maintain that goal."
And boy, have they. "First year's attendance was 8,000 and by 1998 attendance had grown to 20,000, which is over half the current population of Lacey," says Sieler.
The organizing nonprofit group came together in 1999. It consists of 15 people who each facilitate a unique aspect of the two-day extravaganza. This year's festivities take place from 10:00 a.m. until 6:00 p.m. on Saturday, May 18, and 11:00 a.m. until 5:00 p.m. on Sunday, May 19. There is a Lip Sync Battle and Car Show on Sunday, and Kids World activities, pony rides, and circus train all weekend long.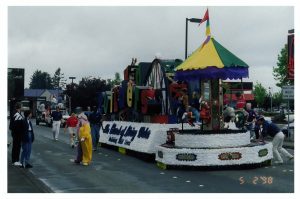 From day one, the Fair has been a community-wide effort. "Started in 1988 when the need for a community festival in Lacey became apparent, the Lacey Thurston County Chamber of Commerce (now the Lacey South Sound Chamber) sponsored and operated the Fair," recalls Sieler. "Saint Martin's donated the space, the City of Lacey contributed financially and with volunteers, and the Lacey Fire Department also provided volunteers."
"The Fair is organized by a volunteer committee and is a community effort that relies on donations, sponsorships, and volunteer time from businesses, organizations, North Thurston Public Schools, and residents," says Sieler. 2019 is the first year for the Fill the Truck food drive benefitting the Thurston County Food Bank. Bring donations of non-perishable canned goods to stock their shelves and feed hungry families around the region.
If you're wandering down memory lane, you might remember earlier car shows, which began in 1998, and the parade, which ran from 1997 until 2016. Other past events include hay rides, a root beer garden, fishing for live trout, miniature golf, and the Safety Town where kids got hands-on instruction from volunteers of the Lacey police and fire departments.
Everyone involved works tirelessly to make this the most welcoming, family-friendly weekend in town. "The Fun Fair is committed to enhancing the community through an annual event that provides fun activities for people of all ages," says Sieler. "Realizing that community festivals are important and necessary and with a commitment to free family fun, Ruth and the committee work hard to keep the Lacey Spring Fun Fair both fun and free so that everyone can enjoy it."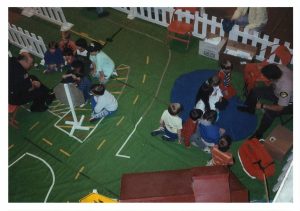 Parking at Saint Martin's is limited so consider arriving via the free shuttle bus. This leaves the South Sound Mall's Flag Pavilion/Civic Plaza every 15 minutes. With more than 15,000 expected attendees, don't battle the crowds when a handy bus is waiting.
Follow the Fair on Facebook and Twitter for updates, timelines, and new additions to the fun. Please note that no pets are allowed.
Since 1988, a lot has changed. Fashion and music may celebrate the retro styles of 30 years ago, but at the Lacey Spring Fun Fair you can immerse yourself in history, memories, and fun. Why not make a few new memories with your family? You may look back on them in 2051 with a smile.
Sponsored