Elaina Hansen opened her senior year by helping Rainier High School win its first district cross country championship in 14 years, setting a new school record in the process.
From there, the Mountaineers went on to finish third overall as a team at the state meet with Hansen collecting a fourth-place finish.
During basketball season, Hansen was a guard on a Rainier's team that went from 2-18 the previous year to 21-4 this year, highlighted by the program's first trip to the state basketball tournament since 2012.
Two spectacular sports seasons during your final year of high school. For most that would be plenty. But for Hansen, a standout three-sport athlete, the track and field season still remained.
She entered it filled with nerves and uncertainty. None of which had to do with the competition she'd face or all the work she'd have to put in – she can handle that.
"Honestly, it sometimes feels like it's a little harder," Hansen said about handling the high expectations. "We had that great cross-country season. We get that first place (at districts) and then we continue that success into basketball. You get to a point where you think it can't get much better than this."
As it turns out, it can because Hansen is putting together yet another sensational track season.
One of the area's top long-distance runners, Hansen has shown no signs of slowing down as she heads into the final postseason of her high school career.
"Elaina has a been a real pleasure to coach over the past four years in track and six years in cross country," said Rob Henry, who coaches both sports at Rainier. "She has a work ethic that is never ending. In the past four years of track, I think she might have missed two or three days of practice. She's always the first to practice and the last to leave."
All that effort has paid off. Hansen currently owns the fifth best time in the 2B classification in the 1600 and the third best time in the 3200. She finished second and fifth, respectively, at the state meet in the events in 2018. Northwest Christian senior Ava Shackell is the state leader at both distances.
Hansen admitted the early portion of her track season has been a bit of a struggle as she had yet to produce a personal record at either distance prior to the 59th annual Shelton Invitational, which is one of the state's biggest meets that draws schools from every classification.
Almost on cue, Hansen proceeded to finish fourth in the 3200 at the Shelton Invite on April 26, stopping the clock in a career-best time of 11 minutes, 49.47 seconds.
Hansen's ultimate goal in her final track season is to break both the 1-mile and 2-mile school records. Both benchmarks are held by Lindsay Barlow, a 2002 Rainier graduate who won the 2001 state title in the 1600.
Hansen is gunning for Barlow's times of 5:18.29 in the 1600 and 11:43.66 in the 3200.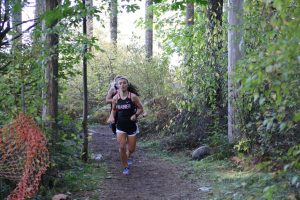 Interestingly, Hansen, whose top time in the 1600 of 5:26.43 came in her junior year, met Barlow four years ago right when she was getting her start with the Mountaineers track program.
"We didn't have a lot of long-distance runners that year. Henry called her up and asked her to come down and work with us," said Hansen, who has committed to Saint Martin's University where she will compete in both cross country and track next year. "It was exciting and fun to run with her and learn about her high school career."
While breaking the school records may be tops on her to do list, Hansen also hopes the work she's put in this season helping the younger Rainier runners will result in one of them eventually breaking her records, should she be fortunate enough to re-write the record book.
"In the last two years, Elaina has really taken on the leadership role of the team and has taken it upon herself to mentor a lot of the younger runners," Henry said while also adding that Hansen current ranks fifth in her graduating class with taking all advanced placement and college in the classroom classes. "I feel very honored to have had the opportunity to coach Elaina over the past six years. She is one of those athletes/people that really make coaching enjoyable."