It's May in Olympia and the sun is out, which can only mean one thing: block party! As summer shows signs of arriving prematurely, local businesses are pulling out all the stops to mark the one year anniversary of the Olympia Downtown Alliance's Third Thursday event. On Thursday, May 16 downtown will come alive with a combination Third Thursday/block party/ Friends Night Out.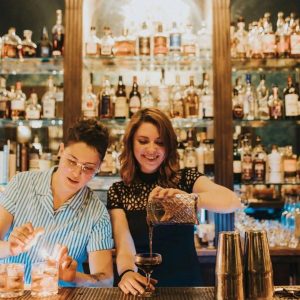 "It's a fantastic event," says Our Table co-owner Brad Thompson, who will be offering small plates of locally-sourced treats at the block party. "It gives people the opportunity to see the growth and changes in downtown Olympia and it gives businesses the chance to openly invite everyone to come see us."
Third Thursday Business Deals and Specials + The Challenge Game
Participating businesses will be providing deals and discounts as well as special touches within their stores. "We try to enhance our regular offerings," says Janis Dean, owner of The Popinjay. "We usually do something fun and have some snacks." Other locations might offer champagne or beer tastings, hors d'oeuvres or activities.
One of the most popular aspects of Third Thursdays: The Challenge Game. Each month, people are on a quest to discover a specific word or phrase. The catch? In order to gather all the necessary letters, they need to visit every participating business. "It's like Wheel of Fortune," says Brit Kramer, owner of Red Barn Communications and a member of the steering committee that produces the event. "It helps people move around and find businesses that they might not have known existed before and then they can enter to win prizes." Groups of friends and entire families have become adept at solving the game, which is sponsored by Home Street Bank.
Block Party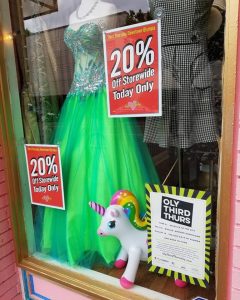 Le Voyeur Owner and 2018 Downtown Alliance Volunteer of the Year, Ryan DiCrescenzo, will be emceeing the block party, which will run from 6:00 p.m. to 9:00 p.m. in the US Bank parking lot at the corner of Washington Street and 4th Avenue. The party will feature live music, a beer garden, kids' activities and local vendors. "For the first time we're going to have some vendors who are local makers from the area, along with our normal line up of three different types of music," he shares. "We'll have a giant Jenga game, face painting, and different kinds of arts and crafts activities for kids."
The opening band will be a solo act, followed by cast members from an upcoming Broadway Olympia Productions musical. "They're going to give a little teaser, so the cast is going to sing a few songs from their next production," says DiCrescenzo. "For the last hour and a half, we'll have more of a rockin' five-piece band."
Thompson and his Our Table team will be on hand offering small plates of seasonal food sourced from the Olympia Farmers Market. "At this time of year we've got new stuff coming up all the time so it's hard to say exactly what we'll be serving," he says. "We'll definitely be using some Washington State asparagus that will have been in the ground within 48 hours of us cooking it. Whatever you see will be what's coming out of the ground."
Friends Night Out
The 16th will include an added layer of fun with Friends Night Out, an event that gives shoppers a chance to fill their goodie bags while exploring downtown. Visitors can purchase a passport for $15, then go to participating businesses to get their pasports stamped and pick up an item. "It's a great thing to do with a group of friends," says Natasha Ashenhurst, owner of Mosaic Marketing Studio, a business located downtown. "Our team had a blast at the November Friends Night Out, but we had to pace ourselves in order to visit each participating business so we could fill our goodie bags and sample all of the amazing treats." Proceeds go to supporting different non-profits, in this case Community Youth Services.
The idea for Third Thursdays started with a meeting of local business owners at the Washington Center for the Performing Arts in January, 2018 to discuss the concept. "We talked about everything from which day of the week it should be on to what to name it and what it would mean for Olympia," says Kramer. "This is very much a committee-driven event that was built from day one on ideas from the downtown businesses."
Since then, members of the committee that subsequently formed have been meeting twice a month to analyze progress, provide feedback and act as a liaison to other businesses. "We have members from all different parts of the community," says Kramer. "Some from restaurants, some from different kinds of retail. It's a diverse committee that really represents downtown."
After a full year of trying different approaches, DiCrescenzo believes the group has got the formula down. "We're off to a good start," he says. "Everyone should come out because we have something for all ages. There are a lot of amazing businesses here and plenty of great people."
Learn more about Third Thursday.
Sponsored