The much-anticipated thrill of summer is growing stronger every day as the traditional school year winds to a close. For students, the prospect of summer is usually welcome news.  For parents, however, this season can be challenging when it is necessary to find safe, engaging places for their young children during the day when school is out of session. That's when Sequoia's Treehouse comes into the picture. Sequoia's Treehouse is offering an Outdoor Summer Day Camp for children ages 5- to 12-years-old. There are 10 weeks of varied camps, where every day is a chance to nurture a love of learning while spending time in the great outdoors.
"Our Outdoor Summer Camp will provide a balance of structured activities and free play that will encourage children's curiosity of nature while building social and emotional skills in problem solving, critical thinking, communication, teamwork, and self-confidence," explains Sequoia Hartman, owner and general manager of Sequoia's Treehouse. The Outdoor Explorers is for children who are 5- to 6-years-old, and the Outdoor Adventures group is for children from 7- to 12-years-old.
The camps run simultaneously and both include numerous field trips to places such as Northwest Trek, Olympic Flight Museum and the Tacoma Zoo. The older children will even have the chance to overnight at three different locations this summer, including the Treehouse wetlands, Lake Sylvia, and Mount St. Helens. The Outdoor Day Camp is outdoors most of the day, although there is some covered area for inclement weather. "It is a great opportunity to spend time fully immersed outdoors," adds Sequoia.
This summer, the Camp Coordinator is Troy Schroder. With over a decade of experience working with children, Troy is creating a camp experience that mixes science with fun, hands-on creating, and outdoor adventures. "It's super cool stuff!" he explains. The list of activities would sound amazing to kids of any age. Special guests will make appearances at Camp including the Wild Felid Advocacy Center of Mason County who will help the children connect with wildlife by up-close introductions to rare, threatened or endangered species.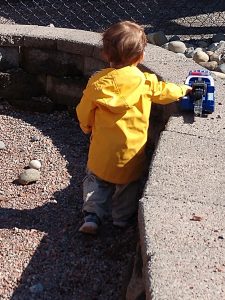 You'll need to see a camp schedule to appreciate the variety that every day brings. Each week highlights a different theme. Camp happens rain or shine, so children become acclimated to being outside regardless of weather – so important here in the rainy Pacific Northwest! Just a few of the fun activities include animal tracking and identifying plants in the wetlands, as well as foraging for wild edibles, picking berries and making jam. Time is planned into the day to garden and care for the 3 goats that live on site. Children will carve soap and make candles as well as investigate how to make herbal medicine. Time at the beach will present opportunities to learn about the creatures that call it home along with going swimming at a local fresh water beach. Additionally, children will practice some basic outdoor survival skills.
The philosophy behind all of Sequoia's Treehouse programs is that children learn optimally when they have the chance to connect with and explore the outdoors. Curiosity is encouraged and there is plenty of room to run around, accommodating the ebb and flow of children's energy throughout the day. "We want to provide every child the opportunity to build the skills, knowledge, and self-esteem that will encourage them to become self-reliant, environmentally responsible, and conscientious partners with the planet," adds Sequoia.
Throughout the year, Sequoia's Treehouse is a Learning Center that provides care for infants 6-weeks to 6-years-old. Additionally, there is care available before and after school (or camp) for students who attend nearby public elementary schools.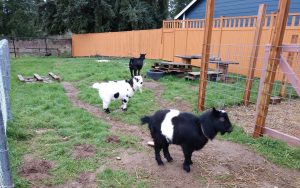 Sequoia is passionate about helping children develop to their fullest potential. Her long-term vision is to also have a fully-licensed, Outdoor Farm School. For the Treehouse, plans continue to unfold. In the meantime, you and your children can take advantage of these fun Summer Day Camps.  Spaces are limited as they only accept up to 14 children for each camp (total 28 children). You are not required to sign-up for every week, and each week is different.
Sequoia's Treehouse Outdoor Summer Day Camps are available from 8:00 a.m. to 4:00 p.m. with aftercare from 4:00 p.m. – 6:00 p.m. offered for an additional fee. Children bring their own lunch but morning and afternoon snacks are provided.
Parents can find more information on the Sequoia's Treehouse website or by calling 360.742.3651.
Sponsored