Olympia is home to iconic sights, smells and activities. From the towering Capitol rotunda to scents of freshly roasted coffee and skillfully brewed beer, there's something for everyone. Did you know we have signature sounds too? Residents and visitors alike can set their watches to the 5:00 p.m. Fish Brewing whistle and eagerly anticipate the Olympia Farmers Market opening bell.
The Market is open all year, but things kick into high gear every April. Then vendors, chefs, staff, and guests enjoy decadent produce, artisan goods, delicious meals and fun every Thursday through Sunday from 10:00 a.m. until 3:00 p.m.
2019 is the Market's 44th season and promises to be a true cornucopia. Things kick off Thursday, April 4, with a ceremonial bell-ringing by Port of Olympia's new Executive Director Sam Gibboney. "The Port is pleased to have such a valuable community asset reside on Port property," says Gibboney. "Part of the 1995 community vision was to see the relocation of the market to Port property and today we have a thriving space that brings together Thurston County residents and visitors from afar to enjoy the dynamic relationship between small, local growers and others who share their products. The Olympia Farmers Market is truly a jewel in this community."
This year's Market hosts more than 100 vendors and 8 food stalls. "We are excited to be open for another season," says Amy Healy, vice president and secretary for the Olympia Farmers Market board. She's thrilled to announce new programs and returning fan favorite events.
"Our expanded schedule means the return of Senior Day, which is every Thursday," explains Healy. "Vendors throughout the market offer discounts for seniors, aged 55 and better. We have new signage this year and customers can look for it in participating vendor's booths."
They will also offer Fresh Bucks to all EBT (electronic benefits transfer) clients. "The market is proud to participate again this year in the Fresh Bucks program, which gives EBT shoppers extra buying power by providing an additional dollar for dollar EBT match of up to $20 per day," says Healy. "Fresh Bucks is a collaboration between the Olympia Farmers Market and the Washington State Department of Health, thanks to a grant from the United States Department of Agriculture. Visit the market office window to redeem or for more information."
On Saturday, April 13, the Olympia Timberland Library will be on-site hosting a pop-up library in honor of National Library Week. The first 10 people to sign up for a new Timberland library card will receive a free Market tote bag.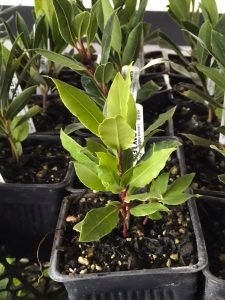 The following week, Saturday April 20, is the Thurston County Bicycle Commuter Challenge Earth Day Market Ride. Bike riders from neighborhoods around town will meet and cycle to the Heritage Park Fountain. After pastries and coffee, they'll all coast down to the Market together. "We are pleased to support The Earth Day Market Ride and encourage our customers to participate in Intercity Transit's Earth Day Market Ride. At the Market, we have three bicycle racks, two on the south entrance and one by the market garden and the Market is just a short ride from the transit center," says John Nason of The Olympia Farmers Market.
Amidst the vendors we've come to know and love will be a few fresh faces. Iron Hill Wool Works will sell raw wools, yarn, and both knitted and felted items galore. Andi Clarke Jewelry creatively fuses sea glass, china, and pebbles into stunning showpieces for casual, work, and formal-wear. Bring home your treasures in a new basket from Bunny Creek Baskets, which are a fusion of traditional coiled basked techniques using non-traditional materials and design inspiration from pottery.
For fruit, veggies, and bouquets, try Stepping Stone Garden, Katie's Cut Flowers, and Heaven's Meadow Flowers. And enjoy the fruits of your labor—or a successful shopping trip—with a treat from the Wynoochee River Winery. They specialize in fruit wines including peach, nectarine, marionberry, boysenberry and cranberry, along with a variety of seasonal wines.
Track all Market events, including live musical entertainment every Saturday and Sunday, on their Facebook or Market News page. There you can also find out about becoming a vendor or sign up for their official newsletter.
Farmers Markets may feel delightfully retro but they're a vital part of any healthy community. The Farmers Market Coalition reports that "Farmers and ranchers receive only 15 cents of every food dollar that consumers spend at traditional food outlets. At a farmers market, 100% of your food dollar goes to your local farmer [and] according to a 2012 grocery retail study, farmers markets are the most trusted food outlet to supply local foods."
Eating locally-sourced food is good for you, your town, and the planet as a whole. Do so while listening to live music, surrounded by friends and neighbors, and just steps away from a vibrant waterfront at the Olympia Farmers Market.
Sponsored