At Thurston Thrives, a little investment can go a long way. The network of local government, non-profit, and business partners collaborates on key issues surrounding community health, and leverages every dollar to maximize impact in areas like education, climate, clean energy, food security, and affordable housing.
So when two Olympia businesses donated a total of $45,000 at the Thurston Chamber Foundation's annual fundraising gala A Night on the Town, it supported an array of community programs, including several focused on affordable housing. "We bring everyone together around the proverbial table to look at how we can do things better," says Thurston Thrives Director Krosbie Carter. "No matter what the specific issue, the whole infrastructure of Thurston Thrives will help move the conversation forward."
Each year, the event raises funds for the Thurston Chamber Foundation, a non-profit that supports five programs resulting from community investment in education: Find Your Future, Leadership Thurston County, Math for Life, the Small Business Incubator, and Business2Youth Connect. The Foundation also serves as the fiscal agent for Thurston Thrives, which enables them to accept grants and donations on the organization's behalf.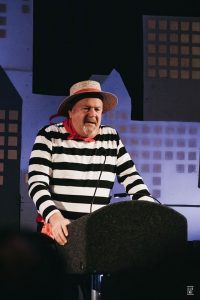 Wells Fargo was one of the contributing firms, providing a $30,000 sponsorship toward programs focused on affordable housing. The sponsorship was in alignment with Wells Fargo's priorities, says Joseph Lanham, District Manager of Southwest Washington and Chair Elect for the Thurston Chamber of Commerce, noting that the company provides $790 million in home loans to 3,875 low and moderate income households across Washington. Through the NeighborhoodLIFT program, Wells Fargo delivers down payment assistance and financial education assistance to home buyers in collaboration with NeighborWorks America and local nonprofit organizations.
"Thurston Thrives has different events like homelessness counts that our team has volunteered and participated in," says Lanham. "We want to help them work on issues that can bring real solutions to affordable housing."
Another large donor was Forma Construction, which has a multi-year commitment to the Thurston Chamber Foundation, including a $15,000 donation at this year's event. Owner Drew Phillips says the work the Foundation and Thurston Thrives does is vitally important.
"The problems are too big for a private business owner to address," he says. "Thurston Thrives is the perfect enterprise to put us together to help find solutions. They have access to city, county, and state government and professionals. Combine that with expertise and money from the private sector and it'll increase our impact."
Lanham cites the access the organization provides to business leaders and policymakers, as well as to people on the ground interacting with those who have housing needs. "You may have things that are really good public policy, but significantly increase the cost to a developer," he says. "It helps if you can talk to the developer and say, 'Let's look at some alternative ways to develop these properties so the rent is more affordable.'"
The monies will go toward capacity building, says Carter, supporting marketing, data collection, and other efforts focused on housing. "We're going to be holding the third Regional Housing Summit this summer, so some of the funding will go toward things like speakers and half-day workshops," she explains. "It will also support my position in working with the Housing Action Team."
That team is one of several within Thurston Thrives that meet on a monthly basis. The HAT group is concerned with policy conversations. "We work a lot with the county and jurisdictions to talk about policy around housing," says Carter. Another group, the Homeless Housing Hub (HHH) studies best practices and policy related to homelessness.
More recently, a group called the Silver Team began exploring housing issues connected to senior citizens. "A lot of times we look at homeless individuals or housing as it relates to families with kids, but we have a huge aging population," says Carter. "What data are we collecting around that and what policies should we be adopting? This group is addressing those questions."
As more businesses step forward to support Thurston Thrives, Lanham hopes the practice will continue to spread. "It would be great to have more businesses stepping up in the private sector who will participate in those solutions," he says. "I think you're already seeing that with Forma and several other developers that are in the Chamber like Olympia Master Builders and Prime Locations. They're doing good work and care about solving this issue."
Overall, the Chamber Foundation and Thurston Thrives are a great place for businesses to find an outlet if they or their employees have a passion for a particular cause. "I'd encourage them to contact the Chamber because there's probably already a team of people that are working on that," says Lanham. "It would be great for them to partner up and gain the momentum of what's already started."
For more information about the Thurston Chamber Foundation, visit their website.