In 1995, 37% of computer scientists were women.Twenty-four years later, you might imagine that number has grown, but you'd be wrong. In fact, the number has shrunk to just 24%, a downward trend that tends to be self-perpetuating due to a lack of mentors.

Locally, one software design company is taking action to reverse the trend. Two employees from Cayzen Technologies, a Lacey software development firm, began offering Girls Who Code classes at Tumwater High School in 2016. This year, to provide greater access to younger students, the course has been moved to Bush Middle School where it will be held every Friday afternoon in room 312.
The nation-wide program is focused on closing the gender gap in technology by introducing coding to girls sixth grade and up. Because Bush is a public school, the program is required to be open to boys as well. "It's a place for students to get a feel for where they're at and why they would want to get into coding," says Mike Tanguileg, a software engineer with Cayzen and the program's lead teacher.
He was inspired to get involved in part because of his daughter. "I'm in a male industry," says Tanguileg. "I love my job, and I'm always telling my daughter, 'You would be such a good programmer.' She'll say, 'Oh no, it's all boys.' I want to change that perception."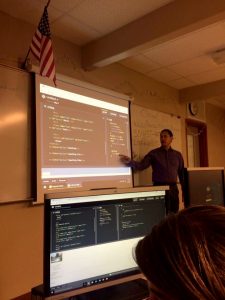 The Girls Who Code curriculum focuses on aspects of the tech industry that tend to put off girls and women, including a belief that it's inherently competitive. "A lot of the Girls Who Code agenda is to show that coding is collaborative," says Tanguileg. "In the class, we emphasize working together to solve problems in teams rather than competing. That's exactly how software engineering really is. If one person doesn't know something, does another member of the team? It's about fostering a more encouraging environment."
Another key teaching point is that failure is an important part of the process. Software gets bugs and being able to identify the problem is essential. "I fail often, and I let them see that," says Tanguileg, "We have the code right on the projector. We encourage them to learn from mistakes and from each other."
At Tumwater High School, the response has been positive, in part because students could see the direct relevance to their lives. "Kids listen to teachers and school officials all day long," says Kellie Graham, Administrative and Athletic Secretary at the high school. "Often they ask, 'When am I ever going to use this?' With Girls Who Code, they've got somebody right there saying, 'This is what I do every day. This is how it works, and this is what's going to be expected of you if you choose this career.' They love that they can see the real-world application."
The first thing students learn how to do is make something that works, even if it's as simple as their own name. "We want them to see, this is not a big deal, you can do this," says Tanguileg. "We give them a little thing and then let them explore it. It gives them a sense of confidence: you made a program. You're a programmer."
He finds it satisfying to watch students begin to approach problems like engineers. "I try to tell them, not what to think, but how to think," he says. "It's really exciting to see them start to pick up things and ask more questions."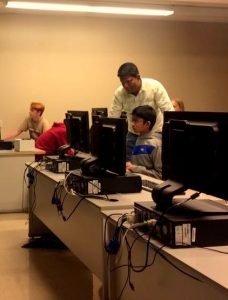 Cayzen Technology Recruiter and HR Manager Sariney Mourng assists Tanguileg in the classes, asking questions from a layperson's perspective and serving as the voice for students who may be too shy to speak up. "Sometimes the girls don't see how this could be relevant for their lives," says Mourng. "We tell them, 'You can work on the beach, you can set your own hours. You can choose what projects you want to work on because that job is in such high demand right now.'"
She has seen the tech gender gap firsthand, recalling an 'aha' moment in 2009 when she reviewed a woman's application for an engineering role at Cayzen. "I was shocked," says Mourng. "I remember realizing that this was the first female resume I'd found in two years."
Both Mourng and Tanguileg appreciate working for a tech organization that supports giving back. "Before Cayzen, I worked with a bunch of different consulting companies and the transaction was, you get a job, we pay you," says Tanguileg. "It's great to be a programmer, but now I can also make a difference in my community. It's not just words; Cayzen is putting up money for us to do this. I can really get behind that."
Mourng agrees. "It's nice that you have a company that's really supportive of this and encourages its employees to go out and be part of the community and give back," she says. Currently, Cayzen offers the only Girls Who Code program in all of Thurston County.

Learn more about Cayzen Technologies at their website or by calling 360-539-5295.