Within the real estate industry, the sheer number of agents competing for clients at any given time means that referrals are worth gold. Positive word of mouth creates an undeniable advantage for those who have established trust and connection with the people they serve.
At Riley Jackson Real Estate's Olympia office, January's three top-selling agents do most, if not all, of their business through referrals and focus on providing service that goes beyond the typical client/agent relationship. For Bird and Ashley Bethje (#1), Sandy Nelson (#2) and Cheryl Messer (#3), taking care of people is a top priority. "I just treat every client like they were my kids," says Sandy.
Bird and Ashley Bethje
The Bethjes joined Riley Jackson four years ago after moving to Olympia from Arizona in a return home for Lacey native Ashley. With three children under the age of four, Bird finds it easy to stay motivated. "Supporting them is what keeps me going every day," he says.
Ashley credits Bird with going the extra mile to make sure clients are taken care of. "A lot of our sellers are from out of state, and we make the process really seamless for them, which they appreciate," she adds. "Because there are two of us working as a team, one of us is always available and they have peace of mind knowing they can reach us at a moment's notice."
For Bird, diversity is an important aspect of the job. "We love the northwest and the mentality here," he says. "People are buying and selling for so many different reasons and it's interesting to see all the different lifestyles. As agents, we get to be part of that journey and help them accomplish their goals."
Real estate aside, Ashley is happy to be back in the northwest for another reason: cuisine. "I'm a total foodie and we have some of the best culinary creations here," she says. "Also, it's a good place to raise kids. I feel safe here and love watching my boys run around in nature."
Sandy Nelson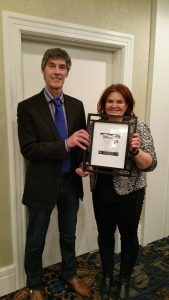 While the Bethjes are relatively new to real estate, Sandy has been with Riley Jackson since it started in 2005 after spending years with John L. Scott. These days, 95 percent of her business is through referrals. "I started my business on the model of 'let's just work with people I know,'" she says. "I work by word of mouth and clients come to me, so they already come with warm thoughts. It's completely relationship-based."
With the concept of how she would treat her own children in mind, she goes out of her way to help clients meet their needs. "If it were my kids, I would want the best deal, I would want the best house, and I would want the best location," she says. "I look out for them and try to make it a positive experience, so they think of me when their kids or friends or colleagues are looking for a house."
The recognition is nice but not what motivates her, she explains. "I don't track it much because it doesn't matter where I rank within Riley Jackson. What matters is where I rank with my clients. I just focus on that."
Cheryl Messer
Like Nelson, Cheryl originally came to the agency from John L. Scott in 2005. She divides her time between Thurston County and Grays Harbor County, in part because she lives in Elma. "I go wherever I'm needed," she says. "I really like the rural communities and I get referrals from past clients' friends and families. I tend to get really nice people to work with." She appreciates the laid back, outdoor-oriented culture of the South Sound.
The majority of her business comes through referrals, something she attributes to her approach. "Treat people how you want to be treated," she says. "I make it a top priority to treat my clients with utmost respect, to respond quickly and give them the information they need. In turn, people pass my name on. That's how I've ended up where I am now."
Another important factor has been the agency's support, says Messer. "We have an excellent designated broker. We get incredible education and training and we have the support we need seven days a week when we're out there working and have questions. That's really important."
Learn more, visit the Riley Jackson Real Estate website or call 360-753-8000.
Sponsored