Music carries us to fond memories faster than any other keepsake, even a photo. You hear the first few bars of "our song" and suddenly your back on that high school dance floor with your sweetheart. Musicals are powerful, as they tell a story while instilling those notes and chords within your soul. On April 5 and 6, Second Act Productions presents The Signature Players in "Old Friends," a cabaret that is guaranteed to bring back warm memories as you listen to the talented cast perform classics from decades of theater experience. From "Seasons of Love" (RENT) to "Loathing" (Wicked) get ready to hear all your favorites as well as a few surprises during this humorous event.
Brenda Amburgy, freelance theatre director, created Second Act Productions out of her love of watching cabaret shows in New York City for the past 35 years. "My favorite ventures were to cabaret shows at 88's and Don't Tell Mama's in the village," Brenda shares. "I was mesmerized by the talented piano players and singers who would perform after they closed their shows that night and were looking for a place to just sing and share their talents with an audience that also wanted more!"
She wanted to bring that same fun, lively vibe to her own hometown of Olympia and knew we had just the right talent to make it happen. "We have so many talented artists in our own backyard who just need to perform," she adds. "I look forward to Olympia's first ever real cabaret show and hope we share that New York experience with you! Life is a cabaret old friends!"
The talented cast has been working hard – well not too hard, they like to laugh – to provide you a show like you have never seen before. You may recognize some of the cast from resent productions throughout Thurston County and southwest Washington. Emma Barnes played Marie in South Puget Sound Community College's 2018 production of La Cage Aux Follies, along side another The Signature Players cast member, Danny Cords who played Jacob in the same production. Guy Nelson is a professional actor and musician who performs throughout the Puget Sound region, and even created a pop-up choir, Sing It! Seattle, open to anyone who loves singing rock and pop classics. They are a just a few of the all-star cast that will entertain you throughout the evening.
In line with a true cabaret show, you can expect the unexpected at either performance, including an "improvisational spectacular" called "15 Musicals in 15 Minutes." Artistic Director/Performer Gwen Haw helped to create a show that will be just as enjoyable to watch as it is to perform. "I am so looking forward to a cabaret experience that brings our new friends, our fabulous audience, into the performance experience in a more loving and interactive way," she shares. "Say goodbye to that 'in your face' musical theatre. You've all been there, you've paid for it: that acting and singing that just sort of happens to you. Let's all try something new. Spend your evening with Old Friends."
A cabaret is a performance in a nightclub or other setting where the audience is eating or drinking at tables. "Old Friends" will take place at The Hub at Lacey, with light appetizers and a drink voucher provided by Ricardo's. Other cocktails will be available for purchase at the bar throughout the show and intermission. For a full evening, consider dinner at Ricardo's before heading to the show. Call 360-413-9995 for reservations.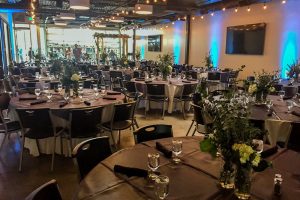 "Old Friends" will run April 5 and 6 at 7:00 p.m. Tickets are $45 and can be purchased through Brown Paper Tickets. For more information, including fun, behind the scene rehearsal videos, check out the Second Act Productions Facebook page. Come spend an evening with old friends, you'll be glad you did.
Sponsored