Spring is just around the corner and it is time to starting planting and planning. A few early preparations for spring gardening will bring benefits all year long, and there are plenty of affordable places locally to find plants and supplies for any size garden or yard.
Bark and Garden Center
Since 1969, Bark and Garden Center has been open year round every day with a huge selection of both indoor and outdoor plants. House plants are their specialty. With fresh inventory often, find sales to clear out old crops. Be inspired with the variety of plants from trees, shrubs, ground covers, perennials, annuals, and a large variety of edibles including herbs and veggies.
Jason's Greenhouse
Jason's Greenhouse in Yelm is open year round, seven days a week and the seasonal Olympia location opens in April until June. The family-run nursery maintains a hometown feel with an impressive selection of assorted annuals and perennials, as well as roses, trees, and shrubs.
Find affordable prices on everything every day with occasional sales. Military, first responders, and teachers receive a discount of 10 percent daily. The more you spend, the more you save with Jason's Greenhouse loyalty program – after spending $250 in the season receive 10 percent off until the end of the year.
Tapestry Garden and Farm
Tapestry Garden and Farm is open for the season on Fridays, Saturdays, and Sundays. Find a selection of unusual Japanese maples, dwarf conifers, plants for pollinators, perennials, edible plants, and lots of plants suitable for containers. Also, find beautiful pottery and local garden art.
With two sales a year, including the Spring into Summer Sale in June, expect great deals on garden favorites. At the end of the season, check out the fall sale starting Labor Day weekend. Sign up for their newsletter and find additional deals with coupons.
At Tapestry Garden and Farm, learn gardening skills like container plantings, pruning, or plants for the season at one of the several workshops a year, some of which are free.
Scatter Creek Nurseries
Scatter Creek Nurseries hosts a spring open house from April 18-21. Win prizes in drawings for hanging baskets and flats of flowers. Open Tuesdays to Sundays, this nursery also has a super cute petting zoo with baby lambs and goats born on the farm.
On Tuesdays, seniors will find 15 percent off everything except baskets and specials. Wednesday is ladies' day with 15 percent off for women with the exception of baskets and specials.
Get plants that will withstand the weather with acclimated starts that are hardened off. Most plants are grown from seed with organic fertilizers and ladybugs for pest control. Known for lovely hanging baskets and friendly and knowledgeable staff, Scatter Creek Nurseries also specializes in annuals, perennials, vegetables, and herbs.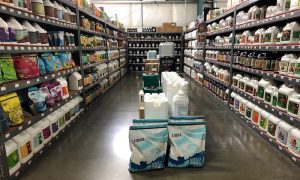 Hefty Harvest Garden Supply
Hefty Harvest Garden Supply is open all year long, seven days a week at four locations. Prices are affordable for all, but additional discounts are available to bulk purchasers.
Hefty Harvest treats all customers like commercial growers, with respect and an understanding that gardens are an investment of time, money, and love. The knowledgeable staff wants to make sure the first timers, victory gardeners, ornamental lovers, homesteaders, and the commercial farmers have access to the products they need at fair prices. Find a massive variety of fertilizers, amendments, root inoculate, potting soils, growing medium, and accessories to help grow a bountiful garden.
Olympia Food Co-op Garden Center
Olympia Food Co-op Garden Center is open February to October seven days a week and October to December on weekends. Sign up for the bi-weekly publication, The Spoonful, for coupons on local items. There are often good discounts on clearance items and plants that need a little extra love.
As a community-owned cooperative, their mission is to increase food access and to foster positive relationships between people and the planet by making high-quality, affordable supplies for sustainable gardening available to the community. Folks who are low-income can join the Cooperative Access Program and get 10 percent off all purchases and they accept EBT for all edible plants and seeds. Members can also become "working members" to receive additional discounts.
Offering a wide range of edible, ornamental, and medicinal plants and seeds as well as grain and cover crops, the co-op sets gardeners up for success by offering seasonally and regionally appropriate plants and seeds.
Eastside Urban Farm & Garden
In an effort to create a reliable source of seed for everyone, Eastside Urban Farm & Garden operates a local seed bank – Oly Seed Exchange. Stop in and register, then check out seeds to grow and bring back the next generation of locally adapted seeds to share with others.
Recognizing the real-life economic realities that many families face, Eastside Urban Farm and Garden offers a wide range of tried-and-tested products from plants to feed, seed, tools and assorted farm and household supplies. Find resources at one of the many classes, or check out the extensive reference library or the community bulletin board to help with sourcing resources to grow your own garden.
Reconnecting with the earth is affirming, renewing, promising. Prepare for your spring gardening projects at any of these locally owned garden centers.
Thrifty Thurston highlights inexpensive family fun in Thurston County. The weekly series focuses on family-friendly activities throughout our community. If you have a suggestion for a post, send us a note at submit@thurstontalk.com. For more events and to learn what's happening in Olympia, Lacey, Tumwater and the surrounding area, visit our complete events calendar.