Successful businesses do more than just buy and sell. They are vital parts of the local community, supporting families through job creation, team sponsorship, and civic partnerships. Up and down the I-5 corridor, the Bruce Titus Automotive Group works to better lives and have fun.
Since 1995, Bruce Titus has been expanding his automotive empire. With locations in Olympia, Tacoma, Port Orchard, and Palm Springs, California, he sells an array of Nissan, Subaru, Chrysler, Jeep, Ford, and Volkswagen models.
Bruce Titus worked his way up in the car business, from detail shop to sales floor, before earning a management position and eventually purchasing his first dealership, Tacoma Nissan Subaru in 1995.
"Wherever Bruce does business, giving back to the communities has always been important," says Marketing Coordinator Barbara Dobbins. "The Titus family, going back to the beginning, have always had a philanthropic spirit. Hard work and a giving spirit can be seen through the generations. Bruce believes strongly that without community support, no business can be truly healthy, and strong communities support stronger economies, thus better business."
Their giving is deliberate, with groups and charities chosen that focus on Northwest benefits. "Bruce and his wife Linda give generously to several organizations, and he likes to keep his money local," explains Dobbins. "Shying away from large mega charities, and focusing on smaller, and often in greater need, local charities."
At the forefront of their giving through Olympia Jeep is the Pacific Northwest Four Wheel Drive Association or PNW4WDA. They were "founded 59 years ago," say President Angie Marek, with a "mission to protect and promote motorized recreation while protecting our environment. Clubs and members of the PNW4WDA do so much more than just 4-wheel, they are actively involved in their communities. On any given weekend you can find members involved in Search and Rescue, helping those in need, putting together food baskets, backpacks, Easter baskets, holiday help, and so much more."
The all-volunteer organization encompasses Washington, Idaho and Oregon and is broken up into regions. "In a nutshell, they provide a voice in state government, work with government forest agencies, and provide organized information regarding safe off road vehicle use, trail maintenance and forest stewardship and protection of public lands," adds Dobbins.
Bruce Titus Automotive Group and Olympia Jeep support PNW4WDA events galore. "Don't get us wrong, we support any Jeep club that supports responsible outdoor recreation and community support," says Dobbins, "but we do keep our focus on PNW4WDA  groups because we know that they have a common purpose that goes beyond just going out and getting dirty in the woods. It is about responsible recreation and community involvement."
Four-Legged Co-Pilots
But let's face it, adventures are better with a pet by your side. With this in mind, the Bruce Titus Pet Project was started in 2010. Simply take a test drive and mention the fund and they'll donate $25 to local animal welfare agencies.
In Olympia, donations go to Concern for Animals, while the Tacoma Pierce County Humane Society, Kitsap Humane Society, and Shelter of the Desert benefit from their other dealerships. In less than 10 years, these donations have reached nearly $30,000.
The Bruce Titus family of dealerships is always looking for new places to help. "We support other area programs, such as the Family Support Center of South Sound," says Dobbins. "We have supported some of their events with sponsorships and things like a school supply drive in August and socks and coat drive in December. All stores hold an annual Fall Food drive where we have donated thousands of units to area food banks."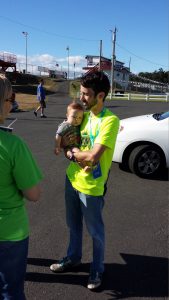 When one of their own needs a helping hand, the team jumps into action as well. "When an employee gets behind something we do our best to support their efforts," Dobbins adds. "It is how we got involved working with South Puget Sound Up with Down Syndrome. One employee's son was born with Down syndrome, so he put on a huge car show and drift race to raise money for the National Down Syndrome Association. He has since helped with their annual buddy walk, which we help sponsor, and has gotten involved at a national level travelling to Washington D.C. for a special awareness event."
Civil rights leader Dorothy Height once said that "Without community service, we would not have a strong quality of life. It's important to the person who serves as well as the recipient. It's the way in which we ourselves grow and develop." Thanks to the Bruce Titus family, everyone is stronger.
Read their pledge of community involvement or find dealership addresses, hours, and driving directions on the Bruce Titus website. Current event listings and activities are updated frequently on Facebook or look for them at festivals and fundraisers.
Sponsored