The first time Drew Kollar heard about the Yelm Community Schools (YCS) bond, he was a reporter at the Nisqually Valley News. During the 2018 bond campaign, he toured local facilities and saw the needs firsthand. Overcrowded lunchrooms, classrooms that were too cold or too hot, and infrastructure in need of repair. "I wanted to give it as much coverage as I could," says Kollar. "Seeing the hard work of the citizens' group, I just wanted to be part of it."
The following year, he got his wish. As campaign manager for the 2019 bond effort, he led the charge for Citizens for Support of Yelm Schools when the district introduced a $98.9 million measure on the February 12 special election ballot. The 2019 measure was approved with 64 percent of the vote, the first to pass since 2003. The money will be used to replace Yelm Middle School and Southworth Elementary School and for security upgrades at buildings throughout the district.
Several key factors made a difference this time around, both in how the district approached communication and in the messages the citizens' group conveyed. After three failed bonds in three years, it was clear that something about the message wasn't getting through. "What we learned from the last bond and the feedback from the community was that they didn't feel like they were fully informed," says Teri Pablo, director of career and technical education and communications director for YCS. "Our number one focus was on communication."
The district also got the community directly involved in setting priorities, something they hadn't done before. A Community Facilities Advisory Committee formed of industry experts as well as alumni, parents and law enforcement toured local schools and assessed the needs of different buildings. "They really focused on narrowing things down and then sharing what they'd learned and what they were recommending with the community," says Pablo.
Meanwhile, at Citizens for Support of Yelm Schools, the first challenge was branding, according to Co-Chair Sandra Manwiller. Within the community, many believed the group was run by the school district but in fact, it's a separate non-profit. The district can present information but cannot actively campaign for a bond. "We kept posting and re-posting on social media, getting our organization out there as a separate entity," she explains.
Manwiller, a certified surgical technologist at Capital Medical Center, started as a parent volunteer when her children were in kindergarten and eventually became a key communicator for the district who functions as a liaison between parents and the administration. This was her second year working on the bond. "I have a bit of project management background, so I took some of those skills and applied them to this giant effort," she says.
With Kollar, a 2013 YCS graduate, in place as campaign manager, the citizens' group began looking for ways to increase voter participation. They changed up their doorbelling strategy, visiting entire neighborhoods rather than specific houses, and made approximately 3,500 phone calls. To create targeted video messages, Kollar brought in fellow alumnus and videographer Eddie Pablo III.
"One of the big things we kept hearing was that there wasn't enough evidence of why we needed to replace the two schools," says Kollar. "Then we had Eddie come in and make videos of how long it took to walk to the bathroom at Southworth, how overcrowded the lunch room was at Yelm Middle School. We brought people behind the front door of every school in the district." Short films also featured alumni who had gone on to careers in different industries.
Those videos were based on reviewing social media feeds, according to Pablo III. "We read the types of comments that people were posting that showed what they were concerned about," he explains. "We wanted to address those questions and also to show the future impact this bond would have."
Having grown up in Yelm, Kollar was able to leverage his connections with many local business owners. Companies put stickers and signs in their windows and yards in addition to sharing social media posts. "The business support was really a standout," says Kollar. "That's something I'm really proud of because we were able to work with everybody on this."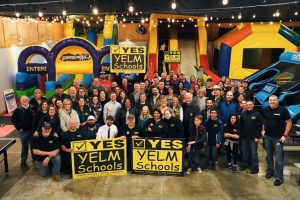 The work paid off. In 2019, 830 more people voted than had the previous year, and the bond passed. One of the first impacts will be strong safety systems put in place district-wide, says Pablo. "That was one of the very strong recommendations from the committee. Every school has some safety measure that will help in their day to day operations."
New school buildings will allow educators to focus on high-quality instruction, she notes, rather than maintenance. They'll also change the overall impression of the city, Kollar believes. "When you drive into Yelm from Lacey, the first thing you see is Southworth Elementary. To have that be a new and beautiful school adds a lot," he says. "The middle school is in the heart of downtown, so having that as a centerpiece will be great. I look forward to seeing those built."
Visit Yelm Community Schools or call 360.458.1900 to learn more.
Sponsored