The last time French horn soloist Danielle Kuhlmann and Olympia Symphony Orchestra Conductor and Music Director Huw Edwards played together was in 2003. Then, Kuhlmann was a member of the Seattle Youth Symphony (SYS), which Edwards was conducting. "She was my principal horn at SYS, and she was excellent," says Edwards. "She's gone on to great things."
Among them, Kuhlmann graduated with a music degree from Juilliard and joined the Seattle Symphony Orchestra. Now, on March 17, Kuhlmann and Edwards will reconnect at OSO's Around the Horn concert, a celebration of symphonic music with a particular emphasis. "It's a horn-led, horn-infused program," says Edwards.
It's also an opportunity for the orchestra's horn section to shine. The diverse group of regional musicians includes both full-time professionals and part-timers who own their own business and/or maintain other jobs.
James Harper is a case in point. As the band director at Tumwater Middle School and a member of the Oly Chamber Brass quintet, he finds that different aspects of his life often overlap. "Every time I go to rehearsal with OSO, I always pick up something that I can use with my school band," he says. "It's a way to sharpen my own axe for my teaching life."
In contrast, prior to retiring from the U.S. Army, Jean Van Effen played in a military band. "It was partly a public affairs tool for the military and also for soldier morale," she says. "In that sense it's kind of similar to OSO in that we're bringing positive morale to people."
Since retiring, Van Effen and her husband have purchased an Alpaca Farm, La Vida Alpacas, and also operate the Tahoma Vista Fiber Mill. She sees cross-connections between the varying parts of her current life. "I'm an artist," she explains. "I'm also a weaver and a hand spinner. I think it's all kind of an artistic endeavor that we're sharing with people, so the music is part of that."
Then there's Larry Vevig, a support engineer for Flowroute, a cloud-based communications firm in Seattle who also plays horn for both OSO and Symphony Tacoma. Between the two musical commitments, he sometimes ends up rehearsing or playing six nights a week.  "Fortunately, I have an extraordinarily understanding employer," says Vevig.
Kuhlmann, meanwhile, is widely recognized as a member of Genghis Barbie, the self-described "leading post post-feminist-feminist all-female horn experience" comprised of four friends who met as freelance musicians in New York City. "Now, one of us plays in the New York Philharmonic and one is playing on Broadway, while I'm out here in Seattle," says Kuhlmann. "We're kind of all over the place but the group is really focused on being strong female role models in the French horn community."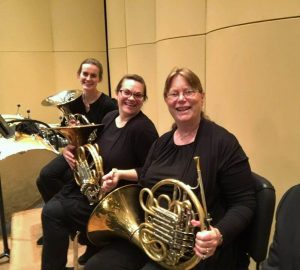 Prior to the OSO concert, Kuhlmann will be offering a Master Class to local musicians. The class will include seven local horn students, ranging from sixth grade through adults, but will be observed by any who wish to attend. "It's kind of a public/private lesson," she says. "You're addressing the issues of the person who's playing but you're also addressing the group as a whole. I take it as an opportunity to impart some of the things that I think are most important about learning the French horn." The class will be held on March 16, from 6:00-8:00, at RL Ray Violin Shop. The OSO is offering the class free of charge for participating students and those who wish to observe.
OSO offers such classes several times a year and they provide tremendous value, says Edwards. "Younger musicians who are learning these instruments can see that people like Danielle aren't that much older than they are, and now they've landed these big jobs in symphonies." Student participants not only receive world-class instruction, but they also receive a free ticket to watch their mentor perform on stage with the Olympia Symphony the following day. This personal connection with professional musicians inspires young musicians in their own musical journeys.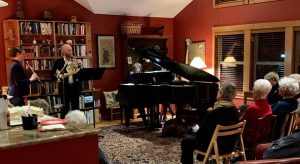 The concert will open with the Weber's Overture to Oberon, a piece Edwards describes as more like a tone poem than an overture. "It has to do with A Midsummer Night's Dream and the fairies and elves in the forest," he explains. Next up, a nod to St. Patrick's Day with Grainger's "Irish Tune from County Derry," better known by its popular name, "O Danny Boy." Young dancers from Ballet Northwest will join the OSO musicians on stage.
Kuhlmann will feature prominently in the following number, Richard Strauss' Horn Concerto No. 1 in E-Flat Major, Op. 11. It will be the first time she's ever played the piece with an orchestra, something she's looking forward to. "It's the classic piece written for the French horn," she says. "Richard Strauss's father Franz was a French horn virtuoso and because he learned from his father, he had a really deep understanding of how to write for the instrument."
A world premiere of local composer Austin Schlichting's Nisqually River Run: A Fanfare to the Pacific Northwest, written in memory of OSO patron Candace Jacobs' late husband, Martin Yates, will precede the final piece, Sibelius's Symphony No. 5 in E flat major, Op. 82. "It's a wonderful symphony that opens with horns," says Edwards. "You just imagine yourself on a frozen landscape in Finland. In the finale, there's a famous horn theme that one commentator said sounds like Thor picking up his hammer."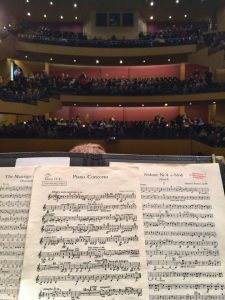 Vevig is looking forward to the Sibelius, which he notes is tougher to play than it first appears. "You listen to the music and you think, 'This is not hard at all,'" he says. "Then you go to play it. It's challenging, which is good."
For Edwards and Kuhlmann, Around the Horn will be a moment to come full circle from where they started over a decade and a half ago. "It's been 16 years since we played together last," says Kuhlmann. "I'm really excited for us to work together again."
Learn more about the Around the Horn concert at the Olympia Symphony Orchestra website, by following the Olympia Symphony on facebook and Instagram, or by calling 360-753-0074.
Sponsored