Test the luck o' the Irish out with a stay at the Quinault Beach Resort and Casino (QBRC) during this year's St. Patrick's Day Weekend celebration and explore the annual Razor Clam and Seafood Festival with a jam packed schedule of land and sea activities. From an exciting updated food menu, clam digging, regional wine and beer tasting, a chowder contest, kids' activities, vendors, and so much more, festival goers will feel like they have found the end of the rainbow.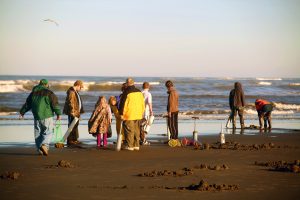 Presented by the QBRC, admission to the festival is free with activities beginning on Saturday, March 16, from 10:00 a.m. to 8:00 p.m. and on Sunday, March 17, from 10:00 a.m. to 3:00 p.m. at the Ocean Shores Convention Center. QBRC will have a free shuttle to take you from your luxurious hotel room to the center for the festival.
Kick off the weekend at 10:00 a.m. on Saturday with the first annual Running With Clams 5k fun run where all participants will receive a complimentary chowder sampling passport, long sleeve shirt and medallion.
Throughout the weekend, enjoy the outstanding new festival dining menu at the convention center that will bring the tastiest of land and sea all in one place for a satisfying and flavorful food adventure. Indulge in the Pacific Northwest's famous seafood with fresh razor clams from the Quinault Indian Nation, a raw oyster bar, fish and chips, Bennett's Dungeness crab cakes and more. Taste test different amateur and professional Grays Harbor County Chowder Contest chowders throughout the weekend with the purchase of a sampling passport and vote for a favorite. Not in the mood for seafood? The expanded menu includes all kinds of options from pulled pork sandwiches to hot dogs. And don't forget to save room for dessert with an equally delicious dessert menu of deep-fried Twinkies, cupcakes, kettle corn, funnel cakes and other mouthwatering treats.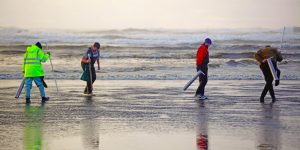 Make it a family event and go out and have fun digging for razor clams with digs tentatively scheduled for around 4:00 p.m. on Saturday and Sunday. Be sure to check the tide tables for any updates. If anyone is taking the plunge into the fun activity of clamming for the first time, the Washington State Department of Fish and Wildlife is there to help with workshops covering everything diggers need to know from the right equipment to cleaning and cooking clams properly. A license is required to dig for clams and can be purchased for $14 from several locations in the area, such as Buck Electric Ace Hardware, Sunrise Market, Iron Springs Resort, You & I Market, or the Sunshine Deli Mart. After diggers have finished, they can head back to enter into the clam contest to win prizes for the largest and smallest oyster.
Inside the Convention Center, guests will have lots to do including taking a look at 40 vendors hosting items like fishing gear, outdoor gear, hand-made crafts and much more. For the kids, there will be a mechanical shark to ride, an outdoor slide, face painting and other activities.
After digging for clams on Saturday, the fun is just getting started with the free Clamtastic Party that runs from 6:00 p.m. to 8:00 p.m. There will be live music by 80 Proof ALE, food, a bar, and then a free shuttle ride available to take guests to the QBRC where the St. Patrick's Day celebrations will be underway.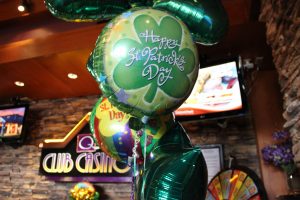 For an all-out good time, bounce back and forth between the festival and the QBRC celebrations taking place all weekend long. The resort and casino will have loads of shamrock entertainment for guests to enjoy, from games and live music to themed food and drink specials. For those wanting to continue the indulgence in delectable seafood, fresh seafood options like the all-you-can-eat Dungeness crab at Emily's restaurant and the Ocean Lounge is offered Sunday-Friday from 5:00 p.m. to 8:00 p.m. for just $29.95. There is also the Catch of the Day, where fresh seafood is brought to the QBRC by Quinault Pride Seafood, bringing the most decadent and fresh seafood experience possible.
For guests looking to stay and play at the QBRC, be sure to check out the promotional packages for great deals. The resort is a cozy option for people looking to warm up and unwind after a day of clam digging and festivities with plenty of accommodations available from spa services to room service.
For more information on the festival and to check out the revamped food menu, visit the Razor Clam and Seafood Festival website and follow the festival Facebook page to stay in the know. For more information or to make reservations and check out the promotional packages at the QBRC, take a look at the Quinault Beach Resort and Casino website or call 888-461-2214.
Sponsored