The Yelm High School girls wrestling program had never had a two-time state champion. Phoenix Dubose needed just 62 seconds to change all of that.

Dubose successfully defended her 115-pound title at Mat Classic XXXI, quickly pinning Granger's Lilana Luna in the finals of the state girls wrestling championships at the Tacoma Dome on February 16.
"This was more than I was hoping for," Dubose said about being a two-time state champion. "I am very happy that this how my senior year ended."
Dubose made short work of her early round competition, pinning Maricell Rodriguez of Evergreen (1:40) in the first round and Torrie Blackwood of Lakewood (1:27) in the second round.
A third consecutive pin followed in the quarterfinals as Dubose put away Sunnyside's Aaliyah Chavez in 3:19 to advance to the semifinals.
Up next was Redmond junior Molly Williams, a two-time state placer who entered the tournament as the weight division's top ranked wrestler. The match lived up to the billing with Dubose earning a hard-fought 8-7 victory.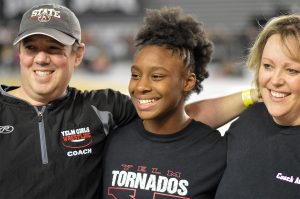 Leading 6-5 after the second period, Dubose saw her slim advantage evaporate after Williams notched an escape midway through the third period. Dubose reclaimed the lead for good with a takedown with 57 seconds left in the contest. Williams was able to score on an escape with 33 seconds remaining to pull within a point, but Dubose was able to hold on down the stretch to punch her ticket to her third straight state finals.
"Her semifinal match was the tough one," Yelm coach Amy Earley said. "We knew that coming into this that the bracket got a little jacked up this time. That semifinal match was insane. I cried after her semifinal match. I didn't after the finals because I knew the semifinal match was going to be the one. If she got by that one, she'd be a two-time state champion."
Dubose finished second at 115 as a sophomore, losing to Davis senior Cameron Guerin, who was a four-time state champion and currently committed to the residency program at the Olympic Training Center in Colorado Springs.
Dubose edged Granger's Viktorya Torres, 7-5, to win her first state title last year.
State championship No. 2 was far less dramatic as Dubose dominated from the start before ending the match at the 62-second mark.
Dubose finished her high school career with a record of 12-1 at the state tournament in the 115-pound weight division.
"She has matured so much since she first entered this program. She was kind of the baby in the room, getting beat up by all the other girls in the beginning when she was a freshman," Earley said, "but she's now the boss of that room. She knows the drill. She gets those girls in shape. Leadership is important to her. She wanted to show the next set of captains how to lead the girls and she has really set the stage for us."
The Tornados finished 11th overall in the team standings with 66 points. Union claimed the state girls' title with 135 points, while White River (114 points) and Hanford (107) rounded up the top 3 finishers.
Olympia had a pair of state placers in junior Erica Grant (130 pounds) and senior Karlee Mosser (235).
Grant defeated Toledo junior Andrea Jones by pin (3:37) in the first round before losing to Franklin Pierce's Eden Mortensen, 9-7, in the second round. In that match, Grant trailed 9-2 at the start of the third period. She was able to register a late takedown and nearfall in the closing seconds, but ultimately ran out of time, sending her into the consolation bracket with the loss.
It proved to be the only defeat Grant would experience at the tournament as she won her next six bouts, including three straight loser-out battles to take home third place.
Grant posted five victories by pins in the consolation bracket, including pinning Wenatchee' sophomore Isabella Andreini (4:16) in the placing round.
Mosser suffered the same fate as her teammate, winning her first-round match and losing in the second round to find herself needing to win three straight loser-out matches to secure a medal at the tournament.
Mosser triumphed in those three matches, winning each one by pin, highlighted by a 53-second victory over Marissa De La Rosa of Royal to guarantee a state placing.
Much like the Olympia wrestlers, Black Hills sophomore Olivia Toussaint also showed her gumption by winning a trio of loser-out matches. Toussaint won all three matches by pin, including registering victories in 59 and 40 seconds, to advance to the medal round where she finished seventh in the 105-pound weight division after pinning Snohomish's Mikayla Jardine in 47 seconds.