Academy Mortgage Loan Officer Kim Torres first heard about Women Build at a Thurston County Chamber event. As a program of Habitat for Humanity, Women Build offers an opportunity to learn how to build a home with professional construction guidance – often right alongside the family who will eventually be living in it. "I thought, 'What a wonderful, empowering project to be involved in,'" says Torres. "You're literally building the American dream for someone."
Torres and many of her female colleagues at Academy Mortgage's Lacey office signed on and quickly found themselves swinging hammers and learning the finer points of operating power tools. "We're always on the other side of it, giving the loan so someone can purchase a home," she says. "To actually get our hands dirty and be part of building the roof that's going to house a family feels pretty good."
The practice of giving back is embedded throughout the company, starting with CEO Adam Kessler. Academy Mortgage staff members support a variety of local organizations as board members and volunteers. They give time, supplies, and sponsor and donate to auctions. "It comes from the owner," says Kathy Randich, Lacey branch manager. "One of the things that wowed a lot of us when we first started working here was the culture. It's about making a difference on a day to day level as well as within the big picture."
As an example, every year loan officers within the company are awarded a trip. The difference from most companies who send their elite sales team on holiday? It's a service trip. Last year, the President's Club went to South Africa where they experienced a safari and local culture. While there, they helped build a series of gardens for a local school and fix up the classrooms. The experience, documented in a company video, was clearly life-changing for everyone who participated.
In Lacey, decisions about which organizations to support come about organically, according to Randich. At staff meetings, employees bring ideas about local groups and share information about their impact. "We talk about contributions and what we want to focus on as a group," she says. "We all have our preferences. For me, anything that has to do with kids touches my heart."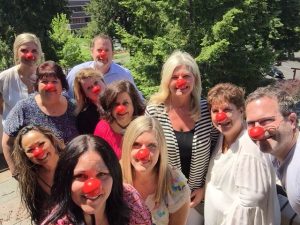 One Loan Officer, Janey Howell, is on the board of the North Thurston Education Foundation (NTEF), which provides grants and scholarships for students within the district. Through her involvement, the rest of the staff has learned some eye-opening statistics about local youth. "We discovered that there are over 700 homeless children in the Thurston County area," says Torres. "That's a pretty big number when you try to wrap your head around it, and it makes you want to do something."
For a period, Academy offices in the Pacific Northwest gave impact closing gifts to every client who successfully purchased a home. Boxes included a blanket from Sackcloth & Ashes, a company that donates one blanket back the homeless shelter of choice for every purchase made. This year, Academy's Lacey branch chose to make that blanket donation to the NTEF.  "We were able to give them to the kids that really needed them," Torres explains. The box also included a water bottle from Miir, an organization that gives 5% of revenue back to trackable water projects, and a chocolate bar from Tony's Chocolonely, a company aiming to end slavery and child labor in the chocolate industry.
Like most businesses, Academy Mortgage routinely fields donation and sponsorship requests for auctions and events. One key factor is making sure that whatever they support will make an impact locally, says Torres. "We want to know that our work will have an effect on the people that live here."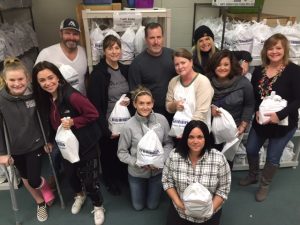 Torres also sits on the board of the Thurston County Realtors Association, a group that dedicates specific days to giving back to the community. Academy Mortgage staff members have participated in their Realtor and Business Associates Day, with projects like home and yard care for military veterans and cleaning up a local cemetery. Working together on volunteer projects has a beneficial effect on the staff, she notes. "You make great memories when you're attending an auction for a local organization or putting the roof on a house together. There's a camaraderie that comes with doing things for somebody else."
Randich agrees. "We are an awesome family," she says. "Making a difference in other people's lives makes us grow closer and we enjoy that extra time we spend together. A lot of us grew up in Thurston County and our children went to school here, so participating in the community is something we make a priority."
To learn more, visit the Academy Mortgage website or call 360.999.5900.
Equal Housing Lender | Corp Lic: WA CL-3113 | Corp NMLS #3113
Kathy Randich – NMLS # 459880
Branch Manager
State Lic: WA MLO-459880
Janey Howell – NMLS #413650
Loan Officer
State Lic: WA MLO-413650
Kim Torres – NMLS #1381682
Loan Officer
State Lic: WA MLO-1381682
Sponsored