Olympia and Thurston County are full of great artists and knowledgeable people who share their skills with others. This new year, find fun classes and events locally with inexpensive and family-friendly things to do.

Arbutus Folk School is a space to create and learn hands-on from master artisans. Classes are offered for different age groups. Youth can participate in adult classes with instructor permission. A tuition assistance program is available to those who qualify.
Hilary Morris teaches a series of youth craft classes on a fun variety of skills such as pottery, bookbinding, leather work, felting, and paper crafts. The six-week sessions allow the opportunity to create and explore several media and students go home with at least five take-home projects. Sessions are on Thursdays from 3:30 to 5:30 p.m. The first session begins January 10 and is weekly until February 14. For ages 8 to 12, the six classes are $225.
Peter Yencken's class about bow making on February 9 is excellent for families. Learn the skills to build and shoot a longbow using ancient practices. The class takes place from 9:00 a.m. to 5:00 p.m. and is $196.
WET Science Center is always free and offers weekly classes on topics related to water and the world. On January 5, tinker with engineering and physics while learning complex chain reactions to complete a simple task with Rube Goldberg machines.
It's all about pollinators on January 12 with Backyard Habitat and Bee Workshop. Make a bee house to take home and learn about honeybee conservation and how to start your own hive.
Create a healthier home on January 19 with a 2:00 p.m. presentation about common allergy and asthma triggers inside your home. Learn low-cost tips for a healthier home and make your own naturally cleaner.
On January 26, kids 12 and older can learn about amphibians of the Pacific Northwest. Learn to identify the life stages of local amphibians at this 9:30 to 11:00 a.m. workshop.
Debbi's Dance Ect. offers free dance day on January 7. From 5:15 to 6:00 p.m. is Petite Jazz Combo for ages 3 and a half to 5. From 6:00 to 7:00 p.m. is Jazz, Hip Hop, and Gymnastics for ages 6 and older. From 7:30 to 8:30 p.m. is for kids 10 and older with Jazz and Hip-Hop. Open to new and existing students with pre-registration online.
Lacey Parks and Recreation has all kinds of classes for kids and adults. Kids 8 years old to adults can discover the fun of crochet at Woodland Creek White House. Make a scarf and hat and learn how to read patterns. The first session begins January 9 until February 6 from 10:00 to 11:30 a.m. and is $44 a person.
Learn martial arts with Kim's Taekwondo. Get in shape while learning self-defense with an emphasis on goals and self-discipline. Classes are offered year-round at the Lacey Community Center for $52. The next session begins January 16.
The Bayview School of Cooking at Bayview Thriftway offers various free cooking classes and demonstrations. On Thursday, January 3, at 9:00 a.m. and also at 1:00 p.m., is In the Kitchen – Peerless Pierogi. Instructor Barb Agee demonstrates how to make the Polish dumplings with both savory and sweet recipes.
On January 5 from 9:00 to 11:30 a.m. is BSC Kids Culinary Arts for ages five to eight. Instructor Irene Schade is in the kitchen with Brrr! It's Chili! Make sweet potato and black bean chili and toasty green chili cheese corn bread. Don't forget dessert with mini "chilly" chocolate ice box cakes.
Olympia Food Co-Op offers classes on a variety of topics from cooking to gardening. On January 13 is Vegan and Gluten-Free Jewish Cooking at GRuB Garden-Raised Bounty. Everyone is welcome to this class for only $7 that begins at 1:00 p.m.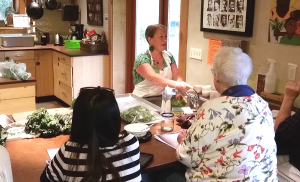 Winter Attunement is also January 13 from 1:30 to 3:00 p.m. for $7. Learn how to attune to the season from the Chinese medicine perspective and make herbal products for winter.
Discovering Plants for Personal Healing is January 15 at 6:30 p.m. for $5. Find a helper plant in this introduction to plant healing work class.
Mycorestoration is a free class on January 27 at 1:00 p.m. Join in for an informative presentation on mushroom cultivation for home and learn about fungi in a brief overview of their importance in the natural world.
Join the Olympia Weavers Guild and learn more about textiles. This non-profit organization of active weavers share information and techniques and provides guidance and inspiration to those interested in the craft of hand-weaving. Monthly meetings are on the third Friday of the month. Visitors are welcome at the regular guild meetings and programs and may attend up to two meetings as a guest before joining the guild. On January 18, the Guild meeting features Spiritual and Jewish Textiles by Lois Gaylord.
Make a New Year's resolution to try something new in 2019. Find a new skill or learn about the world we live in with one or more of these fun classes.