Painted in large block letters along the back wall of the Rochester High School gymnasium is the quote, "Once a Warrior, always a Warrior."

It's a creed that certainly applies to first-year head girls basketball coach Davina Serdahl. Serdahl is a 1990 Rochester graduate and takes over the Warriors program after three years as an assistant coach.
However, this is far from her first head coaching gig.
Prior to returning to her alma mater, Serdahl spent 18 years teaching and coaching at Eatonville High School, turning the Cruisers into a state tournament regular. Between 1998 and 2012, Eatonville made a remarkable 15 consecutive trips to state – a fact few programs can lay claim to.
Sticking true to the saying that's plastered on the gym wall, Serdahl has returned to her roots.
"I guess everything has come full circle for me," Serdahl said. "I loved Eatonville. It was great and we were able to build a successful program there, but it's nice to be back as a Warrior."
Now, Serdahl has set her sights at bringing similar success at Rochester, and with standout juniors Paige Winter and Lexi Jones-Sederberg that could likely occur sooner than later.
Winter, a 6-foot post who excels with her back to the basket, and Jones-Sederberg, a 5-8 guard who has her fingerprints on everything the Warriors do, are one of the top one-two punches in the 2A Evergreen Conference this season.
"It's been great getting to coach these two. Lex is the quiet one, but does all the little things out there. She's our workhorse who never comes out of the game. She's the quarterback of our team and she knows it," Serdahl said. "Paige is just a phenomenal post player. She wants the ball down low and we're doing a better job getting it to her. She is a student of the game and wants to improve every time she is on the floor."
Serdahl first took notice of Winter three years ago during volleyball season. Winter had just transferred from Everett and had already made an impression.
"The volleyball coach told me, 'You have to come watch this girl play,'" Serdahl said. "How often does a player of that caliber walk through your door, especially at a school like Rochester?"
Serdahl, however, figures it was meant to be.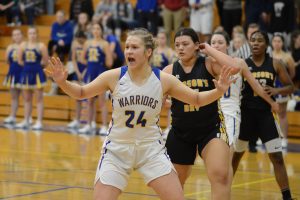 "When I first met her I asked what made her decide on Rochester," Serdahl said. "She told me her dad has a trucking company and wanted to be close to I-5. So it was either going to be Rochester or Eatonville. I just think we were destined to be together."
Jones-Sederberg had a little different experience the first time she met her future teammate.
"The first time she walked through the doors in the gym I thought she must be at the wrong school," Jones-Sederberg said. "I thought she was in college or something. She was so much bigger than everyone else. When I found out she was a freshman, I was so happy to get a post player. She's incredible (on the post). No matter if three people are on her, I can pass it to her and put all my faith in her."
"I'm a talkative person, but I was really nervous coming here," said Winter, who was a second-team all-league pick as a sophomore. "I immediately clicked with Lexi, which helped with that. The first time we played together I remember thinking, 'Yes. I have a guard now and she knows what to do.' Lexi's intensity is amazing. She plays as hard as she can, 150 percent all the time. She's usually really quiet, but when she gets going everyone gets going."
Rochester, which features just one senior this season in 6-0 forward Emily Elkins, is coming off a 7-14 campaign last year, but is already off to a positive start this year.
Serdahl kicked off her run with the Warriors against a familiar face as the team opened the season with a win over Eatonville.
Jones-Sederberg finished with a triple double, scoring 14 points, handing out 13 assists, and pulling down 11 rebounds. Winter was as advertised, scoring a game-high 26 points and adding nine rebounds in the 73-60 non-league victory over the Cruisers.
Sophomores Maddix Schneider and Madison Bates also provided some offensive punch for the Warriors, scoring 13 and 11 points, respectively.
Rochester also owns an early-season 64-60 overtime win over 1A power Montesano this year. The Warriors were 0-7 over the previous five years against the Bulldogs and lost by 45 points (80-35) last season. The losing skid was snapped behind a 25-point effort from Winter and a 19-point performance from Schneider.
"This team just works hard," Serdahl said. "Top to bottom, all 10 of them work hard. I got to see this team the last three years as an assistant, and that made me excited to step back in."