The North Thurston boys basketball team set all kinds of school records last year.
The Rams started the season an impressive 19-0 before going on to capture the 3A South Sound Conference championship. They won 21 games, advanced to the regional round of the state tournament, and had the conference's most valuable player in high-scoring guard Jeremy Spencer, who along with fellow senior Clayton Christian, averaged more than 20 points a contest.
If it wasn't the greatest season in North Thurston basketball history, it certainly was up there as one of the best.
Graduation, however, has since gutted the squad drastically. Last year head coach Tim Brown had 10 players on his varsity roster – nine were seniors.
And while the lion's share of the Brown's lineup this year will be newcomers up from JV, that's not to say he is entering his 26th season with the Rams completely void of players with varsity experience.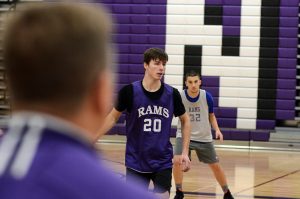 Quite the opposite as, despite the high player turnover, North Thurston still enters the new season with one of the conference's best in 6-foot-4 senior forward Tim Tenkley.
Playing alongside one of the state's top scoring duos in Christian and Spencer the last two years, Tenkley, a two-year starter and honorable mention all-league pick last year, knew what was expected out of him as a sophomore and junior and successfully filled that role to a T.
"Last year I was there to play good defense, be a good teammate, and put some shots up when they needed me to," Tenkley said. "This year is definitely going to be way different."
It certainly will be as Tenkley will now be expected to do much of the heavy lifting on both ends of the court for the young Rams during the early going as the team finds its footing – a task Brown says Tenkley is more than capable of doing.
"He was ready to take on this role last year," Brown said about Tenkley. "He was really efficient last year. Now he has to take on the role of putting the team on his back all the time. Whether that's scoring or whether it's taking the ball and dishing or making a play on defense. We're going to rely on him a lot."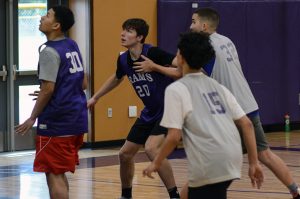 So what exactly does the versatile Tenkley bring to the court?
"Everything," Brown said enthusiastically. "Leadership, scoring, passing, defense, rebounding, he is one of the most complete players I've ever had. He does it all."
Tenkley finished third on the team last year in scoring, averaging nearly 12 points a game, and was second in rebounding at four boards a contest. But, unlike this year, filling up the stat sheet wasn't asked out of him as a junior.
That has changed.
"The one thing I've really encouraged him to do is be more selfish," Brown said. "Last year, he sat behind two guys who each averaged 20-plus points a game and he still had his big games."
Never was this truer than in the playoffs.
In five postseason games last year Tenkley averaged 17.1 points an outing, scoring a career-high 29 points against Kelso and chipping in 19 points and pulling down eight rebounds against Seattle Prep in the regional round.
"I think I learned a lot from playing with the seniors last year," said Tenkley, who has drawn interest from several colleges, including Lewis and Clark. "It was just a great set of guys who knew the game of basketball. They knew how to play smart on the floor. They were all good leaders too, and that's what I'm trying to be this year."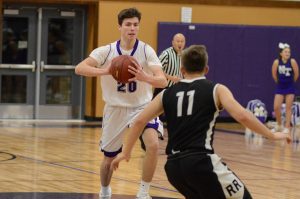 Home schooled until joining the Running Start program this year, Tenkley rarely steps foot on campus outside of basketball. For some that would make taking on a larger team leadership role extremely difficult. It hasn't been the case for Tenkley.
"One thing he does is he comes out and works hard," Brown said. "The entire team sees this. I have a bunch of new kids and they know who he is because of that. It doesn't take long for them to go, 'Ok, this is how it's done here.' Then they go out and work hard because of it."
Tenkley's contagious positive work ethic has already gone a long way in strengthening the bond between the team this year.
"I know I need to step up and be a leader for the team this year," Tenkley said. "I'm super excited to see what we can do. We're still getting to know each other. We haven't played too much together, but we're getting there and I'm looking forward to playing with new guys. I'm just ready to play basketball. It's going to be fun."