Submitted by Westport Winery
Westport Winery Garden Resort and the Roberts family were honored with Seattle Business Magazine's Community Involvement Business of the Year for 2018. Members of the winery team attended a gala dinner held on December 4, at Bell Harbor International Convention Center in Seattle. The judges selected Westport Winery because of the significant investment in local charities and in creating a public garden featuring collaborations with local artists to create sixty outdoor sculptures.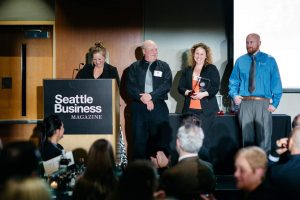 In the acceptance speech for the award winery co-owner Kim Roberts said, "We have grown our business to include 30 employees in two states. That commitment to community means we take the responsibility of making sure our team earns enough to care for their families. We often say we are the ship of second chances. Everyone on our team has a story. Our job is to help them have a success story because of their contributions to our success story."
In her conclusion she said, "Grays Harbor is beautiful, if you haven't visited, we invite you to take a day, a weekend, or a lifetime, and join us in this vibrant area. Ours is a humble community with great need and even greater opportunity. We feel fortunate to be part of its economic transformation."
In 2017 the Westport Winery was named Greater Grays Harbor Business of the Year. USA Today named the Sea Glass Grill at Westport Winery Garden Resort one of the top five winery restaurants in the nation. The business has been voted Best Winery by King 5 Evening Magazine.
In 2016 Westport Winery was honored as one of the top twenty most-admired wineries in North America by Winery & Vineyard Management Magazine. The business earned Best Winery, Best Wine Shop, and Best Boutique Winery for 2016 by South Sound Magazine. They received the Grays Harbor Environmental Stewardship Award in 2015. They are finalist to the Best Washington Family Business competition by Seattle Business Magazine. And in 2011 they garnered Washington Winery to Watch by Wine Press Northwest.
In Oregon, Westport Winery Seaside is open daily from 11am to 6pm. Family-friendly Westport Winery Garden Resort is located on the corner of Highway 105 and South Arbor Road halfway between Aberdeen and Westport. The Sea Glass Grill at the resort is open daily or breakfast, lunch, and dinner from 8 a.m. to 7 p.m. and until 8 p.m. on Friday and Saturday. For more information or reservations call 360-648-2224.