The team at Maid Perfect, a local cleaning company in Thurston County, are no strangers when it comes to navigating a busy schedule. Drew and Tonya Freemantle, owners of Maid Perfect, are juggling raising a 3-year-old, caring for two dogs, two cats and running a business. They empathize with the feeling of not wanting to clean after a long day. "Most people like the feeling of a sparkling clean home but settle for less because no one wants to spend a good portion of their day off cleaning," explains Drew.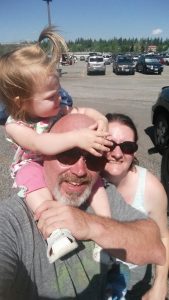 On average it takes the Maid Perfect team two hours to do a deep clean on a residential home with two people. Achieving that same level of cleanliness, would equate to one person cleaning for four hours. "Tonya and I believe that by cleaning homes we are helping improve the quality of peoples' lives, that way they can spend the time they would cleaning on more important things like spending time with family and friends or just relaxing," shares Drew.
To help maintain a certain level of sanity within their own lives, Drew and Tonya have become experts in time management. They have come up with some tips to use when your schedule is filled to the brim like theirs. Drew shares them as follows:
Plan and fix all meals ahead of time. We find it helpful to do this on the weekend.
If there are tasks that you do in the morning but that can be done at night, it's worth spending time the night before to get them done. It will make your morning go much smoother.
Simplify any repetitive tasks you do with technology. If you can find an app that will make your life easier then use it. We used to call or text our employees every week to give them their schedules, now we use Sling, an app that our employees can use to see their schedules. This saves us a lot of time.

Letting someone else clean can give you more time for quality time with the family. Photo courtesy: Maid Perfect.

Use a payroll service like Benefitmall to manage your payroll. All we have to do is call in our employees' hours and they do the rest.

Know your partner's schedule as well as your own so you can coordinate with each other. You don't have to do everything yourself.
Shop at the same grocery store every time so that you know where everything is and prepare a list of what you need.
Create daily cleaning habits so you don't have to spend hours on end cleaning your home in your spare time. You can find a cleaning schedule on the Maid Perfect website.
If you already have your own time management skills and are still finding it difficult to carve out enough time to keep your home as clean as you would like, then hiring a cleaning service like Maid Perfect is a good call.
Maid Perfect has been in business for 15 years. Tonya worked for another cleaning company for 10 years prior to starting Maid Perfect and has 23 years of cleaning experience. Drew worked in customer service and sales for over 20 years before the start of Maid Perfect. With Drew and Tonya's combined experience in cleaning and excellent customer service they have created a thriving business. "90 percent of our business is from client referrals," shares Drew. "We have had some clients as long as we have been in business. When they move, we move with them and usually end up cleaning their new homes."
The Maid Perfect team consists of Drew, Tonya and five other employees. They carefully select all their employees and require a background check before hire. The team works to have no more than three cleaning professionals in your home at one time. They also try and keep the same crew cleaning your home so that way you don't have to get used to new people.
Let Maid Perfect take the stress out of maintaining a clean home. They have a strong attention to detail, are always working to improve their business, invite open communication with their clients and have friendly and professionally staff. Drew and Tonya bring a passion into their work by truly caring about the lives of their clients and by striving to create more space in their clients' lives so they can fill it with what is most important, instead of a vacuum or broom. "For us, it's not what we do but why we do it, that's important," shares Drew.
Maid Perfect offers a variety of cleaning services like move-in and move-out, residential, new construction and janitorial cleaning.  If you would like to learn more, visit the Maid Perfect Website or call them at 360.402.6248.
Sponsored