Ah, Christmas. No matter how old you are, it brings out the kid in all of us. Conquering the chaos of shopping for holiday gifts is all worthwhile when you see that bright-eyed delight on Christmas morning. But for some families, gifts just aren't in the budget. That's where you can help. By participating in events like the TwinStar Credit Union Toy Drive, children across Thurston County can have a truly memorable holiday.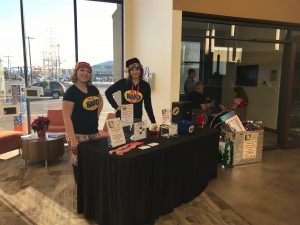 Hosted by 96.9 KAYO FM and 95.3 KGY FM, the drive was started in 2001. A post-9/11 fundraiser, it began as the Toy Deployment, seeking gifts for military families through Joint Base Lewis-McCord's Santa's Castle program.
Within the last few years, however, they re-focused towards the local Olympia Salvation Army Toy-n-Joy program. "Feedback from donors and local businesses requested that donations stay within our community," explains Heidi Persson, the radio station's general sales manager. In the past, so many toys have been generously donated that they've been able to share with families in Lewis, Mason, and Grays Harbor counties as well.
Since 2011, TwinStar Credit Union has taken the lead. Toys can be donated inside any TwinStar Credit Union branch. "We were given the opportunity over 10 years ago to partner with KGY to help provide children toys during the holidays," says Paulette Raico, TwinStar's director of marketing. "We are thrilled to continue to work with KGY and KAYO to help bring a little jolly to families in our communities through donations to the TwinStar Toy Drive."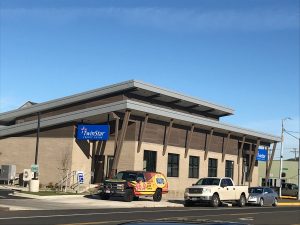 Donations will be accepted until December 14. Toys can also be purchased and donated through Dollar Express at 6700 Martin Way East. Owner and first-time toy drive participant Deanna Bray will gladly help people choose needed items to be included.
Overall, Persson estimates they've helped anywhere from 900 to 1,200 families each year, with the number climbing annually thanks to the Salvation Army partnership. "This year has been a really positive year for donations and community support," adds Persson."This year, Costco in Lacey invited our country station, 96.9 KAYO and the KAYO girls to host a table at their Hero Shop Night on November 17. They were gracious enough to let us bring along our Toy Donation box so that was fun and helped grow awareness and donations. We were also at the Olympia 5th Avenue TwinStar branch on Black Friday doing a live remote asking for toy donations. Branches are now open on Saturday's this year—in the past, it wasn't possible to drop off toys over the weekend, so I think that has been a positive change as well!"
"We will be doing our last live broadcast, on both stations, in Hoquiam, at TwinStar," reminds Persson. "It's on the last day of the drive, December 14. Michael Stein and our elves will be on-site from 11:00 a.m. to 1:00 p.m. and we'd love to have our Grays Harbor listeners stop by, say hi, and drop off a toy!"
Not sure what's needed? Debbie Ingram has been volunteering with the Salvation Army since 1968 and these toy drives are her passion. She says that while "people love to shop for the younger kids," it's the 10- to 12-years-olds who sometimes get left out. Popular items for that age group include slime, sports balls, remote controlled cars, hair dryers, curling irons, alarm clocks, radios, and CD or DVD players. For activities, consider gift cards to local attractions, stores, or restaurants.
Parents needing holiday help should sign up through the Olympia Salvation Army. They can then shop the Toy-n-Joy items on designated days and times. For questions about the program, call the Salvation Army at 360-352-8596.
Can't donate toys but still want to help? Raico suggests looking through the TwinStar Foundation's list of impactful charities across the region. They've helped with scholarship programs, teacher awards, food banks, and more. There is also a PayPal portal available to sponsor a little holiday cheer.
In 2017 alone, Americans spent more than $687 billion on holiday purchases. Gallup reports that "U.S. adults currently estimate they will spend an average $885 on gifts this year." When out and about shopping for friends, family, coworkers, and loved ones, add an extra gift for a family or child who may not otherwise wake up to presents on Christmas morning. Donate a smile, you'll be glad you did.
Sponsored