Anyone who has been to the Longhouse at The Evergreen State College knows that it is a very special place. Add beautiful arts and crafts from over 40 local native artists at the 22nd Annual Holiday Native Arts Fair December 7-8, and it is breathtaking.
Laura (Grabhorn) VerMeulen

is the assistant director for the Longhouse Education and Cultural Center and has been helping to organize the Holiday Native Arts Fair for 21 years. This is by far her favorite event of the year. "I am excited by all of the artists," says Laura, "they are all wonderful people who sell really great works. We have so many talented artists, Peter Boome is one who is also nationally recognized."
Peter just participated in the Smithsonian's National Museum of the American Indian Art Native Art Fair in early December. As a double alumni of Evergreen, Peter looks forward to the annual art fair at the Longhouse. "I have been showing there for over 10 years now," says Peter, and it is always an interesting feeling. I have also taught at the college so it is always nice to see the familiar faces and catch up with folks. It is a bit of a homecoming and a reunion."
We Are Still Here – We Are Not Stagnant
Peter appreciates the Evergreen Holiday Native Arts Fair because it is dynamic. "One of the beauties of that market is that it shows established artists like myself," explains Peter "and up and coming artists too. It's a great way to see a wide variety of artists both established and new. And, I think it's a good opportunity for people to recognize that we are not stagnant, that we are continuing to grow and move and push forward with the art. We are still here and we are making new pieces, new works. This is a good venue to show contemporary work."
Another draw to this fair is that the artists make their work accessible to as many as possible. "As far as my work, it goes from $250 to $5,000," says Peter, "but the average price at the fair is about $100. So, yeah, I try to keep my work affordable always, but especially for a place like that."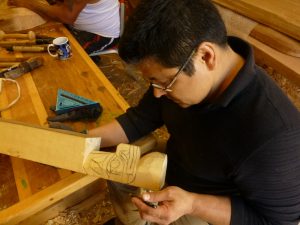 "It is wonderful to see everything the artists have to offer," says Laura, "all the creative original works they come up with. Also, the fact that people from all income levels can afford it."
Featured at the fair will be paintings, weavings, carvings, jewelry, beadwork, clothing, and other items. So far there are 41 artists selling their work and Laura expects a few more to attend. "It is really only comfortable to host about 40 in the Longhouse," explains Laura, "and so we try to keep it close to that number." Though the soaring ceiling, skylights and wooden framework create a sense of space, it is limited.
A History of Welcoming All at the House of Welcome
In addition to Peter, many of the artists represented in the Holiday Native Arts Fair are alumni of Evergreen. The initial Native program started at the college in 1972 with faculty member Mary Ellen Hillaire of the Lummi tribe. It was her original vision and encouragement that led to the dedication of the "House of Welcome" Longhouse in 1995. Constructed in collaboration with several local tribes, the structure was the first of its kind on any American campus. The college has the privilege of bringing many master artists into their curriculum. The result of those artist's talent and knowledge will be evident in the work you will see during the fair.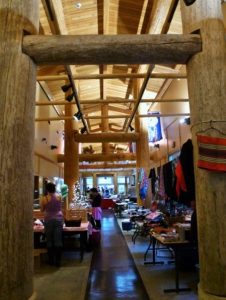 There will also be a food booth this year featuring several different types of chowder and frybread. The proceeds from food sales will benefit the local organization, Generations Rising, funded through the Hazel Pete Institute and other groups. "The Hazel Pete Institute is a multi-generational family of Chehalis weavers," explains Laura, "in addition to producing wonderful woven art works they are also making sure the next generation of youth tap into their creative side and take the time to produce their own artwork."
Support local native art this weekend by attending the 22nd Annual Holiday Native Arts Fair December 7-8 from 11:00 a.m. to 5:00 p.m. Admission is free and parking is easiest from parking lot B with a fee of $3 on Friday and free on Saturday. A Salish Santa will be available for photos from 1:00 p.m. to 4:00 p.m. each day with a nominal fee of $10.
While you are on campus, this weekend will also be one of the last to see the international exhibit Teachings of the Tree People featuring weavers and textile artists from the United States and New Zealand at the Evergreen Gallery.