Studying internationally is an aspiration South Puget Sound Community College (SPSCC) has for its students. The college is committed to sending students abroad through their expanded study abroad and international transfer degree programs.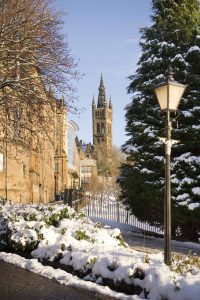 SPSCC offers a range of options for students who wish to study internationally, from shorter-term trips, to completing a four-year degree from a partnering international university. SPSCC's study abroad and international transfer programs are geared to make travel for community college students more affordable and accessible so that students can experience firsthand the growth and unique education world travel can offer.
"Study abroad is an opportunity for our students to get out in the world, develop global competencies and potentially bring that skill set back into the workplace," says Associate Dean of International Student Services, Amy VanSurksum. "They can develop those skills even during a shorter-term study abroad trip, so we make sure all types of students have the opportunity to develop those global competencies that are needed in a local workplace."
Since the school's first study abroad trip to Glasgow, Scotland in 2010, SPSCC has created a tradition of partnering with international universities and participating in consortiums to provide students with quarterly opportunities to study abroad. The college's study abroad program has expanded its shorter-term trips to places like New Zealand, Japan, Costa Rica and Morocco. There are also upcoming quarter-long trips to France and Barcelona. The college is dedicated to creating global friendships with international universities, as well. Currently, SPSCC is partnering with Hagoromo International University to create a student exchange program. To widen access to international studies, SPSCC lets students find their own study abroad program, if their destination of choice is not offered by the college. "The reality is, SPSCC students can study abroad anywhere in the world," says VanSurksum. "It's just a matter of doing some research."
To provide an option for students hoping to earn an international degree, SPSCC created their international transfer degree program. With an international transfer associate's degree from SPSCC, students can directly transfer to numerous international universities that SPSCC has partnered with. The students can finish their education, knowing all of their SPSCC credits will count toward their four-year degree. The program was instituted in 2013, with the first agreement being with Otago Polytechnic in Dunedin, New Zealand. Continuing today, the program is still expanding with new universities added each year. "We currently have agreements with both Otago Polytechnic and the University of Otago in Dunedin, New Zealand, The American Business School of Paris in France, Cork Institute of Technology in Ireland, Goldsmiths University of London in England and the University of Glasgow in Scotland," says Anthropology Professor, Dr. Patrick Chapman. "I am also currently working on an agreement in Australia. The agreements focus on a variety of areas, including disciplines in business, social sciences, humanities and both chemistry and biology."
The international transfer AA degree is different from a traditional associate's degree in that international universities stipulate certain requirements that students must meet, so that they have the best chance for success at an international university. "A significant difference between a direct transfer degree and our international articulation agreements are that the latter require specific classes to have been taken, whereas the former do not," says Chapman. "The international institutions require specific classes to better align what our students are learning with what their students would be learning."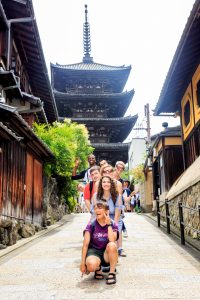 A long-term goal of SPSCC's study abroad program, is to actually have students use shorter trips as a testing ground for more permanent travel. "There is value in trying to bring these programs even more together," says VanSurksum. "Of the two faculty-led programs, there are students traveling to New Zealand that are interested in potentially returning to New Zealand to participate in one of our international transfer degree programs and they use part of this study abroad opportunity to go on real campus tours. For many students, it is the first time they will be out of the country, so they can get a shorter taste of the culture, the climate, the educational system and see the actual university they may study at."
Current SPSCC student, Brittany Blair-Carter is taking full advantage of the SPSCC study abroad programs, both by studying abroad in New Zealand winter quarter and by potentially earning an international transfer degree with the intention of transferring to the University of Otago in New Zealand to study anthropology. Blair-Carter is excited to not only study anthropology in New Zealand, in the short-term, but grateful she has the chance to assess whether the country and university are a good fit before committing to a permanent move. "One of the reasons I was slated to go to New Zealand, is because I intend to go to Otago," says Blair-Carter. "It's a three-week program and the end of the quarter, so I also will stay during my spring break. I will spend some of my time there going to and touring Otago."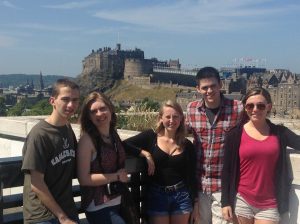 SPSCC offers so many options for students to study abroad, because of the vital skills that can be learned through traveling and experiencing different cultures. These skills can make a student very competitive in the job market, not just internationally, but in the Thurston County community. "This isn't about just a fun opportunity to travel," says VanSurksum. "These are actually critical skills employers are looking for, even in our local community. So, for Thurston County, employers are looking for students who can work on diverse teams effectively, can think about problems in a different way and can be independent problem solvers. Nothing helps you develop independence like being in a country where you don't speak the language and you have missed your train and you need to figure it out. It helps you grow in a way that you probably wouldn't grow if you stayed home."
International travel is also encouraged at the college because of the value a trip can hold for a college student. "Students who have previously participated in study abroad regularly say it was the single most important thing they did during their college career," says Chapman. "It is a life-changing experience. At SPSCC, we endeavor to make studying abroad as accessible and affordable to all students. As a result, this could be their best chance to experience the world."
To learn more about South Puget Sound Community College's international travel programs, you can visit the SPSCC study abroad website and their international transfer degree website.
Sponsored