Covabrelli Coffee, a roast-to-order coffee company in Tumwater, began as a dream in 2005 in the comfort of owner Lou and Carol Nemeth's home. "We knew beginning the business in our home would get us started, but we wouldn't be able to grow the business there," shares Lou. "Fortunately, we found a cooperative warehouse space in Tumwater and moved our roasting business there a few years ago." The couple named the business by combining their four children's names, Corban, Evan, Bryan and Ellie to create "Covabrelli."
Covabrelli Coffee's mission is to introduce people to fresh, organic, great tasting coffee. "When we started the business, we felt Tumwater didn't have signature coffee roasting business," explains Lou. "But it does have a long history of artisan brewed beer. We wanted to create coffee roasting business to continue the history of artisan brew through coffee."
Since opening, Covabrelli Coffee has continually grown. They have expanded to include two other team members besides Lou and his wife. They purchased a larger coffee roaster, allowing them to roast 20-pound batches of beans versus their initial 5-pound batches.
A unique factor to Covabrelli Coffee is that they are a roast-to-order company. Meaning, customers can choose the degree of roast they would like for a particular coffee origin. "Coffee has a certain flavor potential wherever it is grown," explains Lou. "What I can do as a roaster is enhance the potential that's already there." Lou goes on to add that he can roast a coffee longer, which will create more full-bodied and savory notes, while a shorter roast time will create more sweetness and acidity in the cup. "When people order coffee, I work with them to match a roast profile and origin that will suit their flavor preferences."
Covabrelli Coffee sources their coffee beans from Indonesia, Central America, East Africa and South America. "Within those four origins we have coffee that represents the unique flavor of each of these regions. We also offer two water processed decaf coffees so people can enjoy a good cup of coffee without the caffeine," Lou explains. With their four different origins and multiple roast profiles, Covabrelli offers 10 different single origin roasts, 3 espresso blends (medium, medium dark & dark) and 4 half-caf combinations to choose from.
Mindful of Their Impact
An important value to Covabrelli Coffee is minimizing their impact on the planet. "When putting together our business plan, we realized that growing coffee is financially challenging for farmers and harms the ecology of their land," explains Lou. "Coffee is one of the most chemically produced commodities in our world.  We want to support organic coffee farmers and their cooperatives to thrive into the future. Since our beginning, we have purchased green coffee that has been sustainably/organically grown. More recently we have been certified organic by the WSDA." All of the packaging Covabrelli Coffee uses is either recyclable or made from recycled materials.
Covabrelli Coffee is the first coffee company in our region to be certified to use an electronic air cleaner with their coffee roaster. "This way we are not burning chaff and smoke coming off the roast with fossil fuels. Instead, we're cleaning the exhaust through an electronic air cleaner with about 400 watts of electricity.  We then wash the filters on a pattern so that only a minimal amount of exhaust goes back to the environment," explains Lou. Covabrelli's electronic air cleaner is certified by Olympic Region Clean Air Agency.
At the heart of the Covabrelli Coffee is a humble approach to roasting coffee. "We know that there's a lot of great tasting coffee in our community. We don't claim to be superior, but we do claim to do what we can in the best way, and to be cognizant of the environment and to the wages of the farmers that provide our coffee," Lou explains. "We want to be sensitive to what people like to taste in their coffee and not say this is what they should like. We work to empower people with lots of choices and opportunities to discover a coffee that works for them."
You can find Covabrelli Coffee at the Olympia Farmers Market. They can also be found locally at the Farm Fresh Market, Bayview Thriftway, Ralph's Thriftway, the Valley Athletic Club cafe, and online. If you choose to order your coffee online, they will deliver it to your door freshly roasted on Wednesday. Tumwater has complimentary weekly delivery, while Olympia & Lacey every other week. Alternatively, you can save about a dollar by picking up your coffee at their warehouse in Tumwater.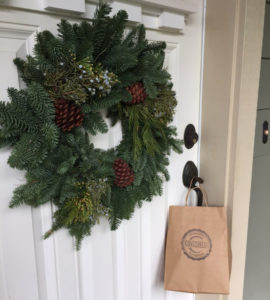 Covabrelli Coffee offers a customizable box of three 4 oz containers of coffee chosen online. To discover if drinking Covabrelli brings a smile to you, the sample coffee box gives you the flexibility to try a variety of coffees in different roast profiles at a reasonable price.
Covabrelli Coffee
2915 29th Ave SW Suite D, Tumwater
360.480.7003
Monday – Friday: 9:00 a.m. – 4:30 p.m.
Saturday – Sunday: Closed
Sponsored