There are so many destinations in Grays Harbor that make it an ideal place to live or visit, from the forest to the beaches. One place that invites locals and tourists alike is the Grays Harbor ORV (GHORV) park tucked away in McCleary. The ORV park has numerous riding tracks and increasing amounts of services with its new operators who secured the lease in 2017.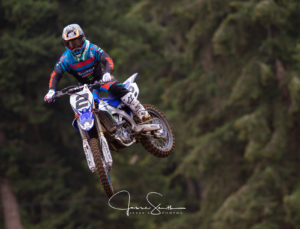 "They've got plans for new events and ways to maximize use of the facility for benefit of the community," Mike Bruner, Grays Harbor Fairgrounds and Tourism manager says. "It's the type of facility that most communities don't have and people come from all over the state, or even the region, to ride there."
Lease holders, Brent Davis, and prominent motocross racer, Ryan Villopoto, have come together to kick start the GHORV with big ideas in mind to surely put Grays Harbor and the ORV park on the map for not only motocross and UTV/ATV events, but also with camp sites, mud runs, concerts, downhill mountain biking and more.
It was a change thing that led them to become lease holders. Davis's son, Mason, and Villopoto had been riding together to train for upcoming races. They had seen that there was going to be an open practice at the ORV park and they attended it. "We both hadn't been there for over a decade and we both commented on the park about how beautiful it was and what it could be," Davis says. "Lo and behold, the lease came up and we jumped on the chance and now we already finished our second year."
Something that makes the GHORV park particularly unique is Villopoto's close and active involvement. Villopoto was born in Poulsbo and is a globally recognized motorcycle racer with a spiraling list of accomplishments. He has been said to be one of the best riders that the world has ever seen. When he retired in 2015, he wanted to keep busy somehow, but he wasn't positive as to what he wanted to settle in to do.
"When this opportunity came up, it was right in his wheelhouse and he was comfortable taking it on," Davis shares. "He also knew that the sport needed some help and he wanted to help his home state."
With Villopoto's Instagram page having gained 978,000 followers, his influence has been a big deal for the accomplishments of the park. Folks come from every corner of the United States and even Canada to take part in his summer camp that is geared towards training with riders of all skill sets and ages. It is hosted at the GHORV by Villopoto and other professionals in the field as an educational and fun camp.
The summer camp is just one of the many enhancements that have been made or are in the process of being made. The GHORV is open from March to October depending on the weather and sees approximately 30,000 people in Grays Harbor each year between mud runs, campers, concerts, practice days and racing events. With all of the current progress and future updates for the park, that figure will only rise. "It's a facility that's super important to us," says Bruner. "As a tourism draw and bringing people to our area and as a community resource."
The new leasers have done a lot of work so far and have repaired and painted the buildings and are getting together a plan to repair the spectator stands with seats and also new paint. Next fall, there are plans to fully rebuild the main motocross track and improve the lower campgrounds with a sewer dump and an addition 25 water and power spots.
People will find five directional tracks at the GHORV. The original Outdoor National Motocross track and Flat track, and then the Kids/Vintage track, Arenacross track, and the ATV/ UTV four-mile loop, that are newly made in 2018. Someday, the promoters want to construct an indoor track because the outdoor tracks are only often usable for half of the year.
At present, the promoters are working on RV Amateur Motocross Cup , Loretta Lynn Motocross Qualifiers and regional events, and WORCS Off Road for 2019. And currently will host Green Beret OCR, Cascadia Dirt Cup, Pac West Motocross SSS Off Road Series, RV MX Summer Camp, Dirty Dash mud run, and Quad Cross.
As part of making the park as multi-use as possible, outdoor concerts have also been brought to the park with five concerts having been held so far. Musicians like the local Humptulips Country Band and the Def Leppard Tribute Hysteria Band have entertained audiences and there are plans to continue with concerts in the future.
The GHORV is embracing the endless possibilities and will keep working to show the park's diversity and potential. "We are excited to work with everyone in Grays Harbor to help promote the county and all that it has to offer," Davis says.
For more information, go to the GHORV Facebook page, GHORV website, or GHORV Instagram page. The GHORV is also making an app for the park for people to have instant updates and information, but it is not yet published for download.
Sponsored