This Thanksgiving weekend, the Washington Center for the Performing Arts presents The Greatest Showman Sing-Along, a guaranteed fun time for families and friends of all ages. Part of their annual movie musical sing-along program, this year's showing of the original musical will be hosted by Olympia's own Lauren O'Neill on Sunday, November 25.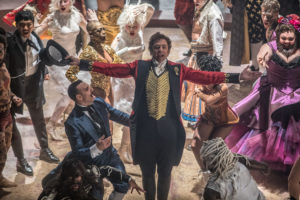 Now in its sixth season, after showing classics like Annie, The Sound of Music, and Grease, the Washington Center decided on a more modern movie musical, one that will hopefully attract a wider crowd. The Greatest Showman was first released in 2017 and has a fun and original soundtrack, including "This is Me," which was nominated for an Academy Award.
Movie musical sing-alongs are a fun way for audiences to engage with a show in ways that are usually not permitted. "We get to make noise and root on our favorites, and be a part of the action," explains Lauren. "We encourage that from folks, which is not always what I get to do. And that's fun. When you have characters that are not nice or not everybody's favorite, the group can react together. Or when the great thing happens to the person we love we can react together."
Another major part of the audience participation is the on-stage costume contest. Participants show their costumes on stage and winners receive prizes donated by local businesses. Emcee Lauren is super excited to sport her custom-made costume by local designer Allison Martin of Harmony Threads, who specializes in aerial, acrobatic and dance costumes, which is perfect for The Greatest Showman's circus theme.
Lauren O'Neill: Emcee, Producer, Dancer and "Doctor"
Lauren is a woman of many faces. When not onstage at the Washington Center, she also works for the company with front-of-house duties. "We have a really nice long-term relationship," she shares. "I love the space, the organization, and I love the passion for community and exploration that inspires."
Lauren is also active in the performing arts community as both a performer and producer. You may recognize her from one of her stage aliases, Dr. Lauren: Therapist, Cosmetologist, Entertainer. She says Dr. Lauren is a great format to work with musicians to do cover songs as well as holiday shows. "And she does a lot of live improvised advice for the audience based on their anonymous questions," she says.
"Dr. Lauren, it's tough to describe how she came about, she just had a lot to say," Lauren adds. "You get the advice, we talk about stuff that's hard or good or happy or sad, and then a beautiful song so you can relax again.
"If you consider art and performance the way we can heal as a community, even if the community is just the people that are in the space at the time, it has allowed me to work with so many people. And that's really meaningful to me." You can tell Lauren's passion for performing goes beyond the stage and finds meaning in touching the real people in the audience. "Anytime we can come together and laugh together, sometimes feel sad together, but recognize that we share more than we don't—the better off we are," she adds. "It can be good to remind people that we're all going through it in some way or another."
Lauren first moved to the area in 1998 to study community theater and performance art at The Evergreen State College. But it was the creative and supportive environment that the local community provided that kept her in Olympia. Seeing other producers and actors doing their own thing inspired her to do the same. She then started to pursue other avenues in improv, singing, and cabaret variety. It was not long before she got a call to host for a local burlesque troupe, another form she is active in as her other alias, Hattie Hotpants.
Even without her stage identities, Lauren is a fun and professional emcee who has hosted the Washington Center sing-alongs every year. Whether you're seeking a break from the hectic holiday weekend, or an alternative way to celebrate with your family, this sing-along is a great way to do so. "Even if you're not a holiday person," says Lauren. "It's dark outside, it's dismal. Come in the warmth, come in the light and laugh and cry with us."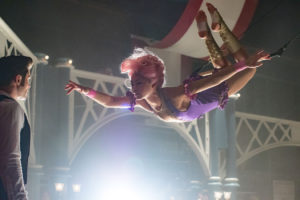 This event is meant to be pure fun and entertainment. Costumes, friends, and singing with gusto are highly encouraged. Even if you just want to come watch you are welcome, and you just may find yourself singing by the end of the night.
Come sing to The Greatest Showman on Sunday, November 25 at 5:00 p.m.
For tickets and additional info, visit the Washington Center event site.
The Washington Center Main Stage
512 Washington Street SE, Olympia
Box Office:
360-753-8586
Tuesday – Saturday: 12:00 p.m. – 5:30 p.m.
Sponsored