As a kid, Ken Brogan used to ride his bicycle around the old Capitol Center Building. It was built a year after he was born and by the time he was in high school, many of his classmates had parents who worked in it.
But times change and so has the Capitol Lake area. Now, Ken and his wife Julie are steering the isthmus area toward another change, one that has taken the old derelict Capitol Center Building and stripped it to a steel skeletal frame, readied for the next phase.
"This building has always intrigued me," says Ken, "and that intrigue wasn't going to go away." Ken looks a bit beleaguered as he says this. The path to get Views on Fifth to this point has been a tough one.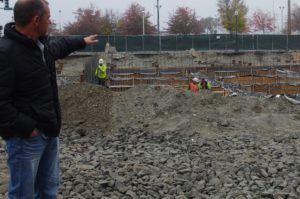 And expensive.
"14.5 million," says Ken, "including the acquisition to where we are today. We are investing in many things we are not required to. We are making it more sustainable and livable for folks. More than just the tenants," Ken adds quickly, "for citizens, for restaurants, and local businesses." The final price tag is expected to be close to 33 million.
Ken and his partners envision a new downtown, and specifically the area known as the isthmus, locked between Capitol Lake and West Bay, as a pedestrian-friendly, residential-friendly business hub.
Views on Fifth is scheduled to open in spring. "We have a great deal of interest to sign leases," says Ken "and with the momentum we're seeing, the property should reach capacity quickly." There will be 138 units available when construction is complete. But before tenants move in, Ken has already promised to give tours. "A lot of folks I know, their parents worked in that building, so we will have tours when it is all done."
Ken and Julie crisscrossed Canada and the U.S. visiting mid-sized cities like Olympia for inspiration. "All of these cities have grown to be commercialized," says Ken. "Too commercialized. We saw some of these great quaint cities in Canada, Arizona, up in Washington DC, to get the look, the feel, of how to redevelop. We spent months with the architect."
We Found Ourselves Back Here
The Brogans wrestled with the problem of how to best design the building for the community. "After traveling all over three or four states, we really just found ourselves back here saying we need to build this building to be an Olympia building."
Local restaurant icon, Ricardo, will be opening a restaurant in the ground floor space. "I anticipate he will do very well," says Ken, "and that he won't have enough seating. I think the tenants will thrive, he will deliver within the building. With the new businesses coming around, it will get better and better as it continues to grow." He points across the street. "And the Oyster House, the tenants will be able to walk there and to new business that will grow downtown."
Anyone who has lived in a growing city neighborhood has felt the effect of growth crowding out light and space. Capitol Center Building, the lone 100-foot-tall building on this side of town, sat for over a decade as controversy roiled below. An expansion of Heritage Park was what some hoped for, others, a hotel, and most everyone else, something – anything – just to get rid of the eyesore.
Problematic and Irresistible
But the height of that tower is what made this property problematic, but for someone like Ken, irresistible.
"The tower is grandfathered in," says Ken, "if it was taken down it could not be built above 35 feet. As long as it remains it can be there forever."
To bring the structure to code meant a heavy investment in upgrades, and some 3,700 pieces of steel to accommodate. "We will install a new glass curtain wall. All our residences in the building will be floor-to-ceiling glass. Hands down, the most magnificent apartments in our area. Hands down."
And yet, you can tell Ken's enthusiasm has been dampened by the "array of personalities" that have been involved in this project. Public hearings, media, courtroom battles, they have all taken their toll.
"Yes. I think it is my finale here," says Ken about the project. "I don't think I will get myself into too many more of the controversial ones."
He and Julie have been working with their kids in preparation of retiring from the company. "A project like Views on Fifth," says Ken, "this is an emotional project for us. We're winding down, the kids are in the office, and they're taking over. It is definitely – in the 32 years I have been in business – the most challenging project from a business and a personal angle."
"I am not sure the Fifth is worth the reward, but I will probably never stop building in Olympia. And I will continue to keep charging into the ventures that I see downtown. I am sure I will," he says, and then adds. "And I am sure my wife won't be happy that I will either."