STEM (science, technology, engineering, and math) education is all around us. It's in the news, featured at community festivals, and taught in schools at every grade level. But why restrict learning to a classroom when STEM concepts are all around us? Thanks to Puget Sound e2 Young Engineers, their first ever team will soon participate in the upcoming First Lego League competition.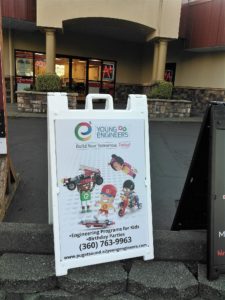 Young Engineers offers hands-on classes to kids from age 4 through 9th grade. Using LEGO-type building bricks, they pair the blocks with motors, pulleys, wheels, and gears to build their creations. As students' progress through the lessons, they even integrate computer coding to move, maneuver, and complete tasks with their robotic builds.
Owner Jennifer Chevalier and her team also teach weekly e² Young Engineers classes in local schools, after school lets out. Additional workshops are offered from their Lacey storefront over Christmas, spring break, and summer vacation.
In December, an e² Young Engineers competition team will participate in the First Lego League robotics competition. The team consists of sixth grader CJ Koch of Aspire Middle School, Anika Prabakar a fifth grader from Hansen Elementary, her twin brother Arya Prabakar of Roosevelt Elementary, and fourth grader Olivia Cronin, also from Roosevelt Elementary.
A worldwide phenomena, the First Lego League organization brings together more than 250,000 participants from 88 countries. They comprise 32,000 teams at more than 1,400 events.
This year's theme is Into Orbit. As part of the pre-competition requirements, Chevalier will bring in a space-themed specialist to speak to the group as well as facilitate a themed research project, the design and build of a robot, and reports on the First Lego League's core values.
To organization founders, these key standards are as important as the STEM training. "They are among the fundamental elements that distinguish First Lego League from other programs of its kind. By embracing the core values, participants learn that friendly competition and mutual gain are not separate goals, and that helping one another is the foundation of teamwork." The core values are discovery, innovation, impact, inclusion, teamwork, and—perhaps most importantly—fun.
Using newly delivered materials and programming tools, the team will build a space-themed robot that can accomplish required tasks. Points are given for various required movements, and teams can decide which they'd like to tackle (as long as they meet a specified final tally). This may mean coding the project to pick up blocks, drive to a certain location, and place them down in a certain order.
Overall, the competition "adds up to tons of fun while they learn to apply science, technology, engineering, and math concepts (STEM), plus a big dose of imagination, to solve a problem," say event organizers. "Along their discovery journey, they develop critical thinking and team-building skills, basic STEM applications, and even presentation skills, as they must present their solutions with a dash of creativity to judges. They also practice the Program's signature Core Values."
The U.S. Department of Education reports that "All young people should be prepared to think deeply and to think well so that they have the chance to become the innovators, educators, researchers, and leaders who can solve the most pressing challenges facing our nation and our world, both today and tomorrow."
Former President Obama believed that science "is an approach to the world, a critical way to understand and explore and engage with the world, and then have the capacity to change that world." That's all the more true when you get inspired while your mind is young, fresh, and full of unbridled creativity.
By blending education with play, science with LEGOs, and computer coding with robotics, Jennifer Chevalier and the Puget Sound e² Young Engineers instructors set kids on the path to lifelong success. Enroll in their workshops, classes, or set up a LEGO birthday party today.
Contact the e² Young Engineers team online, at pugetsound@e2youngengineers.com, or by calling 360-763-9963. Or stop by their Lacey location at 4331-B Lacey Boulevard. Follow the team on Facebook and YouTube for updates, educational information, teaching tips and more.
Sponsored