Each spring for the last decade the Washington Interscholastic Activities Association has put out a request for incoming juniors to apply to become members of the organization's LEAP committee.

LEAP, which stands for Leadership through Education, Activities and Personal Development, is comprised of student leaders from WIAA member schools throughout the state.
Eight students every year are selected to join the committee as student representatives. They will serve during their junior and senior years, participating in WIAA events, meetings and community projects.
Most importantly, however, these individuals are tasked with the opportunity to be the voice of Washington's near quarter of a million student participants.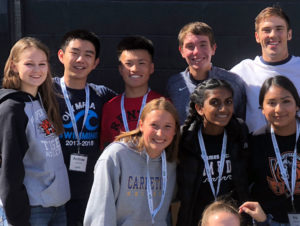 "LEAP is an essential program for the WIAA because it makes sure the Association has a student voice," said Andy Knapp, the WIAA director of marketing, promotions and corporate partners. "Committee members have the unique opportunity to represent their schools and their communities as part of this statewide leadership initiative, and we look to these students to provide important feedback on WIAA-related programs and initiatives."
Olympia High School had never placed a student on the committee.
Andrew Liu became the first.
In order to receive consideration for the committee, a potential applicant must be nominated.
Olympia High School swim coach Mel Smith wasted little time throwing Liu's name into the mix.
"His commitment and dedication are outstanding," said Smith, who described Liu as conscientious and hard working. "Like many, he is multitasking with his solid academics and athletics.
Andrew Liu is a 4.0 student, taking a workload chocked full of AP and honors classes, a year-round swimmer, as well as an Olympia school record holder, and the one Smith believed would end the LEAP drought for the Bears.
He was correct.
"I had not heard of LEAP until coach Smith emailed me about applying because he thought I would be interested in it," said Liu, who also swims for the Thurston Olympians Swim Club. "I checked LEAP out and it sounded very interesting and looked like something I would have fun doing."
During their two-year term, committee members attend meetings at the WIAA office to share their student experience among their peers, to learn more about the WIAA's infrastructure and mission, and to contribute to a variety of WIAA-related educational initiatives and service projects that highlight the value of school programs.
Students apply for the LEAP Committee during the spring of their sophomore year. The application process requires completion of an online form with questions about academic, athletic and activity involvement, a short writing sample discussing the value of school programs, letters of recommendation, and a short video personal statement.
Liu, who was named a team captain for this upcoming swimming season, joined teammates Alexander Wright, Everett Werner and Adam Skjervold in breaking Olympia High School's 400 free relay school record – a benchmark that had stood since the 1970s – during last year's season.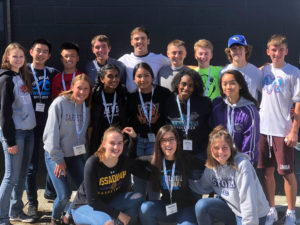 "Breaking the 400 free relay was by far the best accomplishment the Bears had all season. It was the first state time we achieved, just a few weeks into the season at the South Sound Relay meet," Liu said. "It was very exciting for me because it was the first time my sprinting really improved. We worked on breaking the record all season. We often worked on relay starts apart from the rest of the team. We attempted to break the record at leagues and districts."
The team inched close to the breaking the record all season, leading them to the Class 4A state meet were the Bears finished preliminaries less than half a second from breaking the mark.
It was in the finals where the school record, which had stood for more than 40 years, fell.
"My head was buzzing from the excitement and noise," Liu said. "Everett lead us off with a perfect swim, 47.30, propelling us into that lead we needed for the record. Adam swam next, dropping a substantial amount of time. I swam third, swimming a personal record of 49.99. Alex brought it home with a 46.22, sealing the new record. That experience encompasses what I feel is the high school athletics experience. Our hard work and dedication allowed us to break a record cemented in time and set our legacy."
The team finished seventh at last year's state meet in a time of 3:14.02.
"Andrew was the youngest sophomore on the team. He trains hard and races hard," Smith said. "We were excited to nominate Andrew to LEAP and pleased that he was accepted. He will do a great job and learn from the experience."
Liu is just the third high school student from Thurston County to be selected to the LEAP committee. He joins current North Thurston senior Kai Burgman and 2018 Tumwater graduate Dylan Mooers as the only locals to be named to the committee.