Everyone struggles. But sometimes it's hard to see past another's smiling face, busy calendar, or outward appearance to the pain underneath. According to the American Foundation for Suicide Prevention (AFSP), in Washington State one person dies by suicide every eight hours, five times as many as are killed by homicide.
But thanks to local businesses and their supporters, the annual Out of the Darkness Walk strives to shine a light on those in need. Carrie Wall, and her team at their Dutch Bros Lacey coffee stand, were excited to participate in the September 15, 2018 local Olympia Walk.
This is the first year the Dutch Bros team walked, though they often band together to support local charities and fundraisers via their ever-popular storefronts. "I have a friend that I went to high school with at North Thurston that reached out to me about it," says Wall. "She was on the planning committee. We have done walks for Breast Cancer Awareness in the past, but not something we arranged for our whole Dutch Bros family."
For this walk, 16 staffers and their families braved the elements in support of this vital cause. Together they raised more than $1,500. Across the country, more than 250,000 people in all 50 states participated in similar community walks.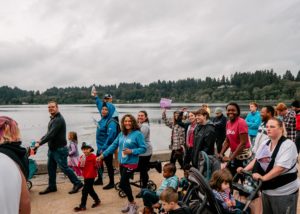 AFSP uses regional events like these to raise awareness. But they also hope "to invest in new research, create educational programs, advocate for public policy, and support survivors of suicide loss. Thanks to Walkers and Donors like you, AFSP has been able to set a goal to reduce the annual suicide rate 20% by 2025."
You may only know Dutch Bros as a hopping, boisterous place for coffee, breakfast, and anytime pick-me-ups. They offer something for everyone. But the team is truly dedicated to this vibrant and growing region.
"Maybe folks don't know that we are a family-run business," says Wall. "My husband used to work for the Thurston County Sheriff's department as a deputy, before 'retiring' last September. He has since come on board to help me with the maintenance and upkeep of our stands. We have three kids in the North Thurston Public Schools and we love this community!
"I love our crew like they are my family. We really try and show them how to love our community. We feel extremely grateful to be doing what we love every day and show our kids what you can accomplish through love. I know it's cheesy, but it's so true."
To keep the love flowing like…well, coffee…they are now working on a breast cancer awareness campaign. They also sold pink-ribbon logo mugs for $24, with $10 from each sale going to the Knight Cancer Research Institute at the Oregon Health and Science University (OHSU). Wall hopes monies raised can "help find a cure and raise awareness for breast cancer." They sold out of mugs this past month, over 500 of them!
Purchase your mug—or just visit Wall and her team of dedicated baristas—at her three Thurston County locations in Tanglewilde, Hawks Prairie, and Tumwater. Their amazing menu will surely have you coming back for refills on a regular basis.
By donating $1 per drink sold on National Coffee Day (September 29), their recent Buck for Kids Day helped donate more than $3,500 to the Boys and Girls Club of Thurston County.
Consider becoming a Field Advocate for Suicide Prevention by signing up online. These advocates regularly work with local and Federal elected officials. Or take action by volunteering, helping with school education programs, or donating financially to a specific group or in memory of a loved one.
If you've been affected by suicide or want to help in the fight, consider participating in one of the many Out of the Darkness Walks that take place nationwide. Anything helps because AFSP reports that "on average, there are 123 suicides per day [and] for every suicide, 25 attempt."
Either way, drive by or drop by Dutch Bros and thank Wall and her team for all they do in and around Olympia. Supporting each other keeps us strong.
Dutch Bros Tumwater
5210 Capitol Blvd SE, Tumwater
Sunday – Thursday: 4:00 a.m. – 11:00 p.m.
Friday – Sunday: 4:00 a.m. – 12:00 a.m.
Dutch Bros Tanglewild
7225 Martin Way E, Olympia
Seven days a week: 5:00 a.m. – 11:00 p.m.
Dutch Bros Hawks Prairie
8229 Martin Way SE, Lacey
Seven days a week: 5:00 a.m. – 11:00 p.m.
Sponsored