TOGETHER! is delivering on its mission to advance the health and wellbeing of all young people throughout the Thurston County community by offering a host of after-school activities as part of the Club House Program. The Club House Program operates in traditionally underserved communities and provides support to children and youth in engaging with their education, peers, and community throughout their learning journey. The Club House Program seeks to make learning fun, foster creativity and provide students a space to succeed.
Nathan Snoozy, who has been the Club House Director at TOGETHER! since August 2018, has numerous plans for the program and believes that the organizational culture of TOGETHER! contributes significantly to its mission of helping children. "There is a real sense of care with the staff, and people really show up for each other," Snoozy says of his colleagues.
TOGETHER! was established in 1989 and originally focused on the prevention of youth drug abuse. Through the years, the mission has expanded and transformed to meet the diverse needs of children and families in the Thurston area, while incorporating social justice values and ideals. In addition to the Club House Program, TOGETHER! operates a Community Schools Program that runs in local school districts, including the Tumwater School District and Yelm School District. The Community Schools Program works during the school day and provides services to students including hosting on-site resource centers, meeting with students one-on-one, and providing academic support. TOGETHER!'s Right from the Start is a bilingual program that provides support and access to resources for families with children who are not yet of school age.
To fill the gap, the Club House Program serves elementary- and middle- school-aged children and youth before and after school and extends into a five-week program during the summer. The Club House runs at five sites throughout Thurston County. TOGETHER! uses the Youth Program Quality model within the Club House. "It is a 30-year-old, evidence-based program that assesses the quality of care and is really focused on youth voice and youth choice," says Snoozy. "It integrates a typical academic activity after school, but then focuses on what the students want to learn." Program activities can include field trips, guest speakers, art projects and science experiments.
As for joining the Club House, the program is open to any elementary- or middle-school student on a first-come, first-served basis. "We always focus on serving the students at the site that we're at, but actually anyone can join," Snoozy reports. "Home schoolers, private school kids, kids that are at a school that don't have a Club House Program running, they are all welcome to apply and be a part of the program," says Snoozy.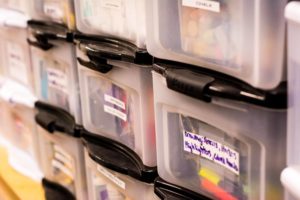 Since this is the first year that Club House is being offered to middle-school aged youth, Snoozy is very excited to explore the role of the program in a middle-school setting. TOGETHER! is also looking to expand bilingual services within Club House. This includes writing and receiving new grants that will allow for the expansion of the program model.
"There are so many wonderful things I want people to know about TOGETHER! and the Club House," says Snoozy, "I've been doing youth work in and out of schools for 14 years and this has been the most impactful program that I've ever been a part of. I've really seen students grow and learn self-confidence, self-worth, and all those skills to deal with big emotions and life changes. Students go from not being able to be in class at all – fighting, and hitting other students – to being the greatest student leader, even skipping a grade. One of the students actually skipped a grade after being in Club House. He said it was the first time that he had teachers that believed he was smart." Snoozy credits giving students a voice and a transformative discipline and justice model as keys to program staff's rapport with students.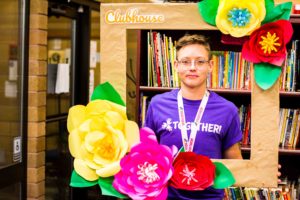 Building on the organization's ideals of social justice and community mobilization, Snoozy encourages interested community members to get involved with TOGETHER! and the Club House. "There are so many ways to get involved," Snoozy reports. "Club House is definitely looking for volunteers and we are still hiring. Community Schools always need people helping. Just materially, people bringing things in and out of the sites. And we always have events where we need volunteers."
Katie Hatam, Communications & Development Manager at TOGETHER!, reinforces the call for volunteers to expand and innovate its programs. Currently, there is one simple way for anyone in the community to get involved. "Our Community Schools program is running its October campaign right now, where one way to get involved is to donate socks," Hatam says. "There are socks that are available for kids at the program schools. Last year we had 1,700 pairs of socks donated and we have gone through almost all of them."
If you are interested in attending an event to support TOGETHER!, they are hosting their 4th Annual Gala on February 23, 2019 at the Lacey Campus of the South Puget Sound Community College. The theme of the night will be "Together for Kids," and according to Hatam, the night is focused on what we can achieve as a community when we come together for kids.
Sponsored