It's here! The season of cheer, cocoa, bright lights and of course, tons of family activities. From the start of November through December 25, there are plenty of holiday activities in Olympia, Yelm, Tumwater, Lacey and throughout Thurston County. From parades and tree lightings to ice skating and plays, you are sure to find something that puts you in the holiday spirit. You can access our full event calendar here for even more events as they develop. Highlights below.
27th Annual Homemade for the Holidays Bazaar
Thurston County Fairgrounds
November 2, 4:00 p.m. – 8:00 p.m.
November 3, 9:00 a.m. – 4:00 p.m.
Find that special gift at the 27th Annual Homemade for the Holidays Bazaar. It's the perfect place to look for any type of handmade item. They will also be taking food bank donations. Lunch will be available from Madeline's Bavarian Wurst and a bake sale hosted by the Lacey Presbyterian Church.
Drees Holiday Open House
524 Washington Street SE, Olympia
November 9-12
Monday – Friday: 10:00 a.m. – 6:00 p.m.
Saturday 10:00 a.m. – 5:30 p.m.
Sunday 11:00 a.m. – 4:30 p.m.
Extended Holiday Hours
Drees is kicking of the holiday season by hosting their 30th annual Holiday Open House over Veteran's Day Weekend. On Saturday, met veteran Brandon Busch, owner of Boulder Chocolate, and sample his delectable toffees. Come all weekend to see the wonderful items Drees has to help you celebrate the season.
Girlfriends Holiday Market
Thurston County Fairgrouds
November 9, 3:00 p.m. – 5:00 p.m., $10
November 9, 5:00 p.m. – 8:00 p.m., $5
November 10, 10:00 a.m. – 4:00 p.m., $5
Kids and parking are free
Head back to the Thurston County Fairgrounds for the annual Girlfriends Holiday Market. Here you will find all kinds of vintage, antique, mid-century, upcycled and crafted items for gifts and as well as decorating your home. Fresh wreaths will also be for sale.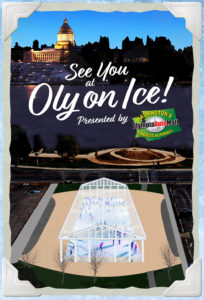 Oly on Ice
Isthmus Park, 529 4th Ave W, Olympia
November 16 – January 2
For the first time, Olympia is going to have a seasonal Ice Rink! Starting November 16, you can get into the spirit of the season with your entire family and this fun outdoor skating rink. They are planning a variety of special events and themed skate nights, so check the Oly on Ice website for more details.
Parents' Shopping Day Out
The Strong Center, 2256 Mottman Rd., SW, Olympia
November 23, 8:30 a.m. – 12:00 p.m.
Cost: $30-35
We can all use a little help during the holidays; it's especially hard to shop for the kids when they are always around! The Strong Center is helping out with a drop-off day for your kids. You can shop, have an early lunch or a brunch, and just relax while your kids have fun with activities, games, crafts, bounce house and snacks. Open to children 4-years-old to 12-years-old.
Shipwreck Beads' Winter Artisan Market
8560 Commerce Place Drive NE, Lacey
November 24, 10:00 a.m. – 5:00 p.m.
For truly unique gifts, there is no place better than the Shipwreck Beads' Winter Artisan Market. From Dirty Man Soap to dyed wool made local from sheep raised by the vendor, you
will find the perfect gift for everyone on your list.
Downtown for the Holidays
Downtown Olympia
November 25, 5:00 p.m. – 8:00 p.m.
If you are one who waits until after Thanksgiving before "decking the halls," Downtown for the Holidays is a perfect kick-off event. Otherwise, it's another not-to-miss event for those who have already been celebrating! You can window-shop, take photos with Santa, and watch the parade and tree lighting ceremony, both at Sylvester Park. There are things going on all over downtown, so check out the Downtown for the Holidays website for more information.
The 1940s Radio Hour
Harlequin Productions, 202 4th Ave. E, Olympia
November 29 – December 31
Cost: $25-49
Harlequin Productions is bringing back The 1940s Radio Hour that inspired and launched the Stardust series. It was also the first holiday show on their stage. Hear classics, including "Boogie Woogie Bugle Boy" and laugh out loud as a harassed producer copes with a hilariously zany cast and crew.
Tiny Tim's Christmas Carol
Olympia Family Theater, 612 4th Ave E, Olympia
November 30 – December 23
Cost: $10-12
Perfect for the whole family, Tiny Tim's Christmas Carol is an engaging, all-ages holiday tale that brings to life the lessons of Dickens's original classic.
Olympia's 41st Annual Toy Run
December 1, 8:00 a.m. – 11:00 a.m.
Last year, the Olympia Toy Run raised over $230,000 in toys and donations for the Salavation Army's Toy n' Joy Shop. Be sure to catch the parade as thousands of motorcycles take to the streets with the toys. Before then, be sure to donate at one of these toy drop locations. After the parade, head to the Olympia Eagles Hall for the 2018 Red & White Winter Bash, the traditional toy run after party.
Christmas in the Park Event
Yelm Ave and Yelm City Park
December 1, time TBA
Yelm will be having their annual Christmas in the Park event, which includes a Parade, on December 1. Visit the Yelm Area Chamber of Commerce website for more details as they develop.
Lacey Parade of Lights
Lacey
December 3, 6:30 p.m.
The Lacey Parade of Lights has quickly become a holiday tradition in Thurston County. Gather together and watch the brightly lit cars, trucks and other vehicles drive by.
16th Annual Christmas Tree Lighting Festival
Tumwater City Hall
December 8, 2:00 p.m – 5:00 p.m.
Bring the whole family to the City of Tumwater Christmas Tree Lighting Festival. There, you can enjoy games, crafts, performances by local and school choir, and Santa arriving on an antique fire truck! Of course, the real star of the evening is the tree that will be lit up spectacularly.
DUCK the MALLS
Olympia Film Society, 206 5th Ave Se, Olympia
December 8, 11:00 a.m. – 4:00 p.m.
Cost: free
This fun holiday gift and craft fair was created to support local and independent artisans and artists, as well as the Olympia Film Society.
Santa at Swantown
Swantown Inn & Spa
December 12, 5:00 p.m – 7:00 p.m.
The sixth annual Santa at Swantown event is full of warm cookies, hot cocoa and of course Santa! This year, Santa is bring his elves with him to help check kids in and escort them to meet the big man himself!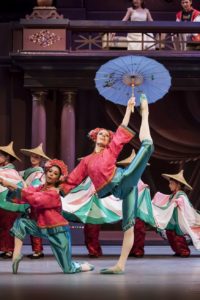 The Nutcracker Ballet
Ballet Northwest at The Washington Center for the Performing Arts, 512 Washington St. SE, Olympia
December 7-16
Cost: $23-35
Ballet Northwest is once again bringing us the holiday classic, The Nutcracker Ballet, to The Washington Center for the Performing Arts in December. After three decades, this is still one performance you won't want to miss.
Son of a Nutcracker
Location TBD
December 16, 4:00 p.m. – 6:00 p.m.
Cost: $10-12
Join South Sound Dance for their holiday show, Son of a Nutcracker! Based on the movie Elf, this show has a classic Nutcracker twist with plenty of laughs. You may even find yourself singing along. For more information, including location announcements, visit the South Sound Dance website.
A Christmas Story, The Musical
Broadway Olympia at The Capitol Theater, 206 5th Ave Se, Olympia
December 20-24
Cost: $22-25
For many, it wouldn't be Christmas until you here, "You'll Shoot Your Eye Out." Well Broadway Olympia is bringing you this holiday classic like you have never seen before, as a musical! A Christmas Story, The Musical tickets are on sale now.