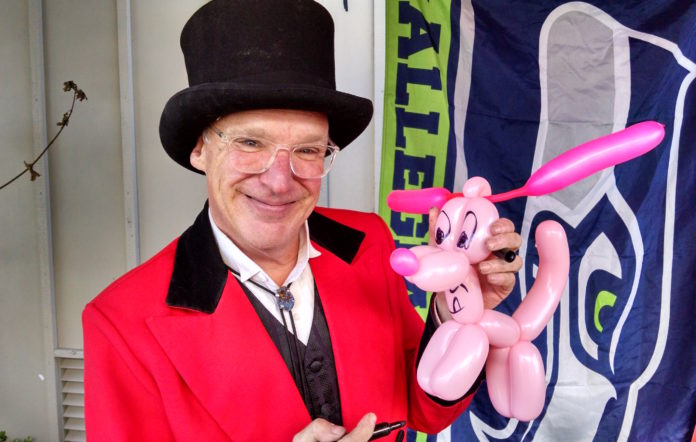 It's one of our community's favorite, year-round destinations, and there are as many reasons as there are types of people for deciding to spend time there. The Olympia Farmers Market is an optimal gathering place for friends, families, tourists and anyone wanting to stimulate the senses. On any given day, you will see babes in arms and senior citizens using walkers – and every age in between.
Karen Reddick appreciates the organic produce she uses to blend morning smoothies for her whole family. Market produce transitions through the seasons meaning the vegetables you see today were just picked. Now that fall is here, juicy cranberries can be scooped up making a wonderful addition to those smoothies. Cranberries will brighten your salads and add a little tang to your applesauce. Karen's 16-month-old son Oscar likes his morning beverage. Daughters Caitlin and Hazel also like their smoothies, but for them getting a glitter fairy tattoo is the best part of going to the Market. Skye of Interstella Face Painting and Body Art has a table decked with colors and sparkles along with a book of ideas for you or your young companions. Take time to meet Professor Bamboozle, who is an expert with balloons.
Karen and Larry Berg like to stop by the Market for lunch. "Dinghey's crab cakes are the best anywhere," said Larry. He is also a big fan of Sea Blossom's cold smoked tribal salmon. "It's the best in the state," he exclaimed. It's their go-to gift for relatives when they travel. Larry said that ever since they started bringing salmon on their trips, the relatives expect it! Karen likes the authentic tastes of Los Tuleños. The Market has a row of food vendors, all with different offerings. Get a full meal or a cup of coffee then sit down to listen to the live music. It's all part of the market atmosphere.
The Market believes in the importance of eating a nutrient rich diet. They maintain various avenues of financial support for people with lower incomes. Fresh Bucks can turn $10 of your food spending into $20. The Olympia Farmers Market is happy to accept Washington State Electronic Benefit Transfer (EBT) cards, Women Infant Child (WIC) checks and senior checks. These can be used to purchase fresh fruit, vegetables, meat and baked goods. Stop into the office for assistance with any of these programs.
Parking is free and plentiful. Find a cookie or pick out a delightful piece of Blissful Wunders chocolate to savor. You can stay for a few minutes or linger through the afternoon. Bring your friends and explore the aisles. Remember that starting in November the Market will be open on Saturdays and Sundays only. The usual time of 10:00 a.m. to 3:00 p.m. remains the same. Come early and come often!
The Olympia Farmers Market
700 Capitol Way N., Olympia
360-352-9096
Sponsored