Submitted by Westport Winery
If you think you heard a collective sigh of relief it probably came from the Westport Winery's Roberts family as they finished harvesting the 2018 vintage October 26. We have been so fortunate in the past few years to have optimal growing conditions in our vineyards, offering us the opportunity to craft world class wines. This year the story is in the numbers.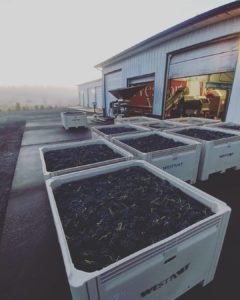 Between the family members, Blain, Kim, Carrie, and Dana, we made twenty-five trips this harvest to Eastern Washington to pick up our grapes. We always have two family members on the hauls. Dana and Kim started the season. As it picked up Dana had to stay home and process the fruit while Blain and Carrie did the majority of the trips with Carrie as the primary truck driver hauling grapes three days a week. Kim drove the last trip to give Carrie a chance to catch up on two months of work.
We picked a total of 112-tons of fruit this year, up over 20-tons from last year, and 40-tons from the year before. Our greatest highlight was the invitation to work with Klipsun Vineyard for the first time where we harvested 2-tons of Cabernet Sauvignon on Red Mountain. Klipsun is ranked as one of the top twenty-five vineyards in the world. It is an incredible honor to have this collaboration.
We added some new varietals to our mix this year mostly from Elephant Mountain and Sugarloaf Vineyards, both owned by Joe Hattrup in the Rattlesnake Hills AVA. The 40-tons of fruit from these two vineyards included Pinot Gris on our first trip and Cabernet Sauvignon on our last haul. In between we harvested Riesling, Merlot, Syrah, Malbec, Mouvedre, Grenache, and Petite Sirah. The family decided to have Kim bake fresh cookies for our growers on each trip. Joe Hattrup said he gained weight this harvest, but he wasn't complaining.
Our dear friends the Sauers at Red Willow Vineyard again grew the most amazing Gewurztraminer, Sangiovese, Riesling, and Merlot. This is easily one of the most beautiful vineyards in the state and is also ranked one of the top twenty in the nation. We harvested 36-tons of fruit under their lovely Monsignor Chapel high on the hill in the Yakima Valley AVA.
Our newest project this year was harvesting 2-tons of Sagrantino at Inland Desert Vineyard. This new grape variety was acquired after Kim and Carrie visited Texas wine country this spring. When they tasted wine from this grape they insisted Dana make more for them. Westport will be one of three wineries in the state making this luxurious Italian-style wine. We can't wait to share it with all of you in two years! That trip is also where they discovered sparkling almond wine which became an obsession. Because of this you will have the opportunity to enjoy it for yourselves by next summer when we will bottle our first vintage of this sweet party in a bottle.
We again harvested over 4-tons of Chardonnay at Connor-Lee Vineyard near Othello in the Columbia Valley AVA. This was a bittersweet pick since it was our last in this vineyard as we are moving our Chardonnay production to Olsen Brothers Vineyard near Benton City where we picked just under 4-tons of Chardonnay this year along with 4-tons of Petite Sirah.
All of these vineyards involve hauling fruit over White Pass. Only when we travel to Discovery Vineyard in the Horse Heaven Hills AVA do we drive through Portland up the Gorge to Biggs, across the river back into Washington and another 40 miles east. It is our longest haul at just over 600-miles round trip, but it's worth it. Milo and Kay May are incredible grape growers. Their attention to detail and quality shows in their Bordeaux-centric vineyard where we harvest Merlot, Cabernet Sauvignon, Cabernet Franc, and Syrah.
We traveled 13,000 miles in this endeavor to make just about 7000 cases of wine. We are delighted to take a break from "road food" as we pack crazy lunches, so we have as few stops as possible, while still logging over six hundred hours behind the wheel in two months.
Dana, along with his helper Caleb, has processed all this fruit here at Westport Winery Garden Resort. He has worked 14- to 16-hour days for two months with no time off. His is truly a labor of love. To see him in action we encourage you to join him any Saturday or Sunday at 1pm for the Backstage Winemaker's Tour.
If you want a deep dive into his world, consider scheduling a Barrels and Cases event with him where up to ten guests enjoy a private tasting in the barrel room along is tapas for $100. This is by reservation only. We have doubled our barrel program this year too. And next spring we will be releasing our first vintage of small batch, barrel select, vineyard designate reserve wines in what we are calling our MV series. Each of these very limited-edition wines is named after one of our charter boats from our Lahaina Diver days. They will only be available to taste in the Barrels and Cases tour when you can look forward enjoying MV: Endeavor, Reliant, Dominion, Defiance, Valiant, and Alliance. There will only be about 25 cases of these special wines or one barrel each.
Blain and Kim will be heading to stay for the first time at the new Westport Winery Seaside Retreat in Oregon next week now that it has an occupancy permit. We are still waiting on the permit to allow for vacation rental, so we can share this sweet three-bedroom with king beds and three-bath cottage on the golf course, with you, our wine club members. It is just one block from the beach in Seaside, Oregon, and a few blocks from our incredible tasting room and gift shop at 810 Broadway.
We share the Broadway Building with Seaside Kites, Rust & Dust Antiques, The Salon on Broadway, Seaside Spa & Massage, and the Capricorn Pub. So there is truly something for all ages when visiting our Oregon location.
At the Garden Resort between Aberdeen and Westport you will be delighted to discover an expanded parking area for cars, RVs, and those towing boats. It is a perfect weekend to come to the beach for razor clam diggning.
In 2017 the Westport Winery was named Greater Grays Harbor Business of the Year. USA Today named the Sea Glass Grill at Westport Winery Garden Resort one of the top five winery restaurants in the nation. The business has been voted Best Winery by King 5 Evening Magazine.
In 2016 Westport Winery was honored as one of the top twenty most-admired wineries in North America by Winery & Vineyard Management Magazine. The business earned Best Winery, Best Wine Shop, and Best Boutique Winery for 2016 by South Sound Magazine. They received the Grays Harbor Environmental Stewardship Award in 2015. They were named the Best Washington Family Business Silver Medal winners in 2012 by Seattle Business Magazine. And in 2011 they garnered Washington Winery to Watch by Wine Press Northwest.
In Oregon, Westport Winery Seaside is open daily from 11:00 a.m. to 6:00 p.m. Westport Winery TASTING @ Cannon Beach is open Friday, Saturday and Sunday from 11:00 a.m. to 6:00 p.m.
Family-friendly Westport Winery Garden Resort is located on the corner of Highway 105 and South Arbor Road halfway between Aberdeen and Westport. The Sea Glass Grill at the resort is open daily or breakfast, lunch, and dinner from 8:00 a.m. to 7:00 p.m. and until 8:00 p.m. on Friday and Saturday. For more information or reservations call 360-648-2224.