One point on your credit score. With a number that small, how much difference could it make? Quite a big one, it turns out. According to Brian Brock, sales manager at Academy Mortgage Corporation in Lacey, the difference between a 679 score and a 680 score can mean a dramatic reduction in loan fees and an accelerated path toward home ownership. "On a $200,000 home loan, not having that one extra point can result in $2,500 in extra loan fees or over a quarter percentage point interest," he explains. "If you're not putting enough down on the loan, that same one-point difference could mean a significant increase to other costs."
At Academy Mortgage, Brock helps clients understand and work on their credit reports as part of the loan application, a service not every lending agency is able to provide. One of the initial steps is pulling their score, a move that often generates resistance initially. "People will call, and they want to know what their interest rate is going to be and what they're qualified for," he explains, "but they tend to be hesitant about pulling their credit. They think, 'If I have another inquiry that's going to knock my scores down. I really want to know where I'm at without taking that step.'"
What clients don't realize is that consumer credit reports and mortgage credit reports are calculated differently. For the latter, lenders will take scores from the three main credit bureaus, Equifax, TransUnion and Experian, and throw out the high and low scores, leaving the middle. That score may show up differently on a consumer report site like Credit Karma. Once Brock has pulled the results of a client's credit report, it will show if there is an opportunity for the customer to improve their scores. These improvements can help them either qualify for a loan or to possibly take advantage of better loan terms and rates.
"The reports are going to show what someone's potential score is in addition to their actual score," he explains. "If I pull up a credit report and the score is 660, it will tell me if that score has the potential to become 680, 690, or even 720."
Some steps are simple and cost nothing. "I just had one client increase their credit score by 15 points by taking one of the borrowers off as an authorized user on someone else's account," he says. "If you're a first-time home buyer and you think you need to have this extra credit, you may have your parents put you on their card as an authorized user, but you may increase your credit score by coming off that account." On the flip side, adding another authorized user may also increase credit scores.
In one recent case, a friend referred a married couple to Brock for a home loan. The wife had been married previously, and as part of the divorce proceedings, debts had been assigned to both parties. Her ex-husband, however, had not paid some of those debts on time and one had gone into collections.
"I looked at the credit bureau report and noticed that if we paid off that collection, her credit score went from the 660's up into the 680's," says Brock. Because the couple wasn't putting 20 percent down on their home, the difference in lending fees would have been close to $5,000 plus an additional $160 per month through mortgage insurance costs. They were able to save that money by working on their credit. "They'd gone to another lender that wouldn't make adjustments," says Brock. "Working through it can have a huge impact."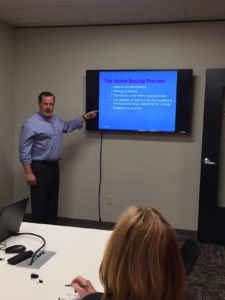 Optimizing credit can mean a better loan program with better interest rates and the ability to put less money down on the loan. It can also lead to lower insurance costs and/or the flexibility to move from an FHA loan accompanied by mortgage insurance for the life of the loan to a conventional loan with lower upfront costs, says Brock, enabling borrowers to eventually drop the mortgage insurance without having to refinance.
As an example, another pair of long-term clients recently closed on a house after years of financial struggle exacerbated by the recession. He worked with them over the course of several years to get their credit where it needed to be. Once they were finally eligible for a home loan, the couple was in a state of happy disbelief, telling Brock, "We never thought this was going to happen."
"That's the best thing," he says. "You do a job every day and you can be passionate about it, but for someone to say, 'We never thought we would be able to buy a house again' and now they can, it's so rewarding. This has been on their minds for six or seven years."
Academy Mortgage does not provide credit repair or credit counseling services. To learn more, visit the Academy Mortgage website or calling 360-999-5900.
Brian Brock
Sales Manager, Producing |  NMLS # 419013
Equal Housing Lender | State Lic: WA MLO-419013; OR: 419013; CA: CA-DBO419013,
ID: MLO-444013
Corp Lic: WA CL-3113; OR: ML-2421; CA: 4170013; ID: MBL-671 | Corp NMLS #3113
Licensed by the Department of Business Oversight Under the California Residential Mortgage Lending Act
Sponsored