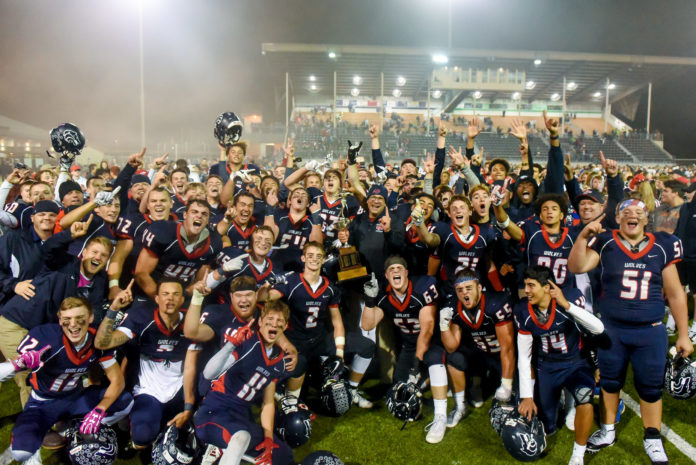 Sometimes the little brother does win. A packed, divided and Tumwater resident friendly stadium was full of jubilation, shock, sadness and joy after the Wolves beat the T-Birds.

The Black Hills High School boys football team won the 20th annual Pioneer Bowl Friday, October 19 with a 22-17 victory over cross town rival Tumwater High School at Tumwater District Stadium. The win keeps AG West Black Hills High School undefeated (8-0 overall, 4-0, 2A Evergreen Conference) and puts the Wolves in the driver seat to win out their first possible EVCO championship next week when they travel to Rochester (2-6 overall, 1-3, 2A EVCO). Black Hills clinched a share of the championship with the win.
Wolves senior Ethan Loveless caught the winning touchdown in the fourth quarter to put Black Hills ahead 22-10. Loveless led the Wolves with four receptions for 87 yards. The T-Birds scored a late touchdown to raise tensions, but Tumwater couldn't convert an onside kick and Black Hills pounded out a first down to close the game. Tumwater (7-1 overall, 3-1, 2A Evergreen Conference) trailed from the start of the game after Black Hills scored an early touchdown and safety. The T-Birds tied the game at 10-10 after a late 1-yard 2nd quarter touchdown by Zane Murtphy and 3rd quarter field goal to tie the game up.
Jadan Cote threw for 159 yards and three TDs to lead the Wolves. Tumwater's Hunter Baker led both teams in rushing with 75 yards on 18 carries. Black Hills coach Kirk Stevens received a "Gatorade" bath as he celebrated the win with his team. "I am just proud of the way that we played from the beginning to the very end." stated Stevens. "The effort that we had, the heart that we had, never disappeared at any point."
The win for the Wolves brings the Pioneer Bowl trophy to Littlerock road for the first time in nine years. Tumwater holds a 16-4 lead in the Pioneer Bowl series. The T-Birds hosts Centralia (2-6 overall, 1-3, 2A EVCO) next week at home and will regroup as they prepare for the post season.