Halloween in Olympia is about to get a little more rockin' and rollin' with the opening night of Broadway Olympia Productions' rendition of The Rocky Horror Show. The musical by Richard O'Brien will hit the Capitol Theater stage for six shows and each time will feature a raucous mix of singing and dancing that culminates with sound effects from audience participation.
Rocky Horror is a cult classic that follows a newly engaged couple who are struck with a flat tire on the way to a visit an old professor. That leads the couple to the castle of alien transvestite scientist, Dr. Frank 'N' Furter. What starts out as a quest to phone for help turns into a night of misadventure full of quirky characters, sequin-clad dance numbers and a healthy dose of rock 'n' roll.
The musical has always prided itself on the dedication of its fans, including decades of midnight showings and a tradition of audience participation. Audience participation at a typical showing of Rocky Horror includes calling out catchphrases, singing along to one of the many memorable musical numbers, throwing props on stage and dressing up as characters from the musical. "It became an interactive audience experience when the movie was produced," says Director Chris Serface. "People started doing call-backs to the screen and started to bring props. We believe that should still be a part of the show, so if you come to see it, you will be able to do callbacks and we will be selling participation kits with everything you will need to make yourself part of the show."
The cast and crew at Broadway Olympia are thrilled to perform their own version of the show and "do the time warp" for a Thurston County audience. Since this show has the element of audience participation, Director Chris Serface ensured from the beginning that the actors were well prepared for the possible interruptions while on stage. "We yell out some of the callbacks, even when they auditioned," Serface says. "We were yelling things at actors as they auditioned to see how they could handle that happening to them. We will have a test audience do callbacks so our cast is ready to handle any situation."
Melanie Gladstone, the show's choreographer and character of Columbia, is a lifelong Rocky Horror fan and tried to honor the show's reputation and cult following through this production's dance sequences. "It is really exciting choreographing," says Gladstone. "And a challenge in wanting to make sure I pay homage to what die-hard fans expect to see, but also to not just copy other people's work. To make it my own with respect to the original."
This is David Maldonado's first time starring in a production of Rocky Horror and Maldonado thinks the element of audience participation makes for a stronger production. "It drives us more and builds more confidence in us," says Maldonado. "I think having the audience participate is almost like they are also part of the show. It makes it more fun and brings more out of us as actors. We are all in this together."
Maldonado says that starring in Rocky Horror is valuable as an actor because it enables him to break out of a traditional acting mold. "I have been trying to push myself out there," he says. "What I am trying to do more of lately is make choices that I would normally not do within a show. I want to be more fun. I sometimes feel embarrassed with myself, but that's the point. You're supposed to feel embarrassed because that's part of pushing out of your comfort zone."
Brynne Geiszler has starred in three productions of Rocky Horror and is currently playing the role of Magenta. Geiszler says that audience participation is integral to the show and advises first-time audience members to let go and have fun. "You have to live in the moment," she says. "It's going to be wild. Have an open mind. It's definitely an experience. It's a little naughty, and by a little, I mean a lot. Expect to have a good time."
This is John Tyndall's fourth time in a Rocky Horror production. This time around, he plays the narrator and has a few words of advice for novice attendees. "First time comers to the Rocky Horror Show should always come with an open mind," Tyndall suggests. "Kick back, relax and enjoy yourself and remind yourself that this is a theater. This is a show and we are here to entertain you. It is a lot more salacious than some shows, but at the same time, to many folks, those taboos aren't the same as they once were. But it is still a great joy to see, knowing the history behind it."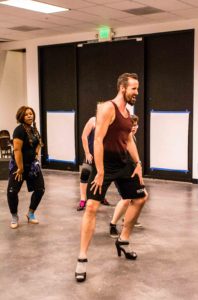 This production's Dr. Frank 'N' Furter, Mauro Buzzo, has never starred in a production of The Rocky Horror Show before and describes mystery and meaning behind this production. "The audience should expect the unexpected," says Buzzo. "Be ready to have fun and enjoy the show. But also, take away a message because that's what's great about theater, there's always a message, even from something as loud and rambunctious and crazy as this show is, there is still a fantastic message to take away at the end."
Director Serface encourages everyone to come see the show, even if they have never seen Rocky Horror live. "You will regret it if you don't come out and see it," Serface says of the show. "It's a limited run and if you don't come, you will hear everyone talking about it and realize you missed one of the best Rocky Horrors to ever happen in Olympia."
Broadway Olympia's version of The Rocky Horror Show opens at 8:00 p.m. at the Capitol Theater on October 31. The show runs until November 4, with a midnight showing on November 3 and a matinee on November 4. More information about the show can be found on Broadway Olympia's website. Tickets can be purchased on the Capitol Theater's website.
Sponsored