It is easy to group people into homogenized clumps. Lately I hear a lot about "the left" and "

the right," as if we are defined entirely by our political affiliation. Another group of very diverse individuals that is often defined by one single description is "the homeless." Perhaps it is easier to classify this varied community into a singular descriptor because we don't want to think about the individual people that make up this group. They are mothers, fathers and siblings with hopes and dreams of a better life just like many of us. I was honored to be introduced to a man who happens to call the streets of Olympia his home. His name is Jeff Eastman and he is an artist.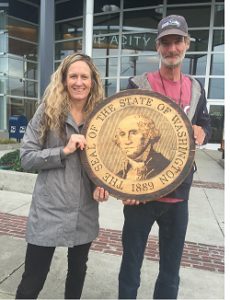 Jeff has lived in the area most of his life. He attended Timberline High School and worked as a CNA for an area convalescent home until about five years ago when he got "down on his luck." Since then, he has become a fixture on the Olympia streets and is currently living in a tent downtown. He is engaging, kind and very passionate about his work, a unique method of wood burning that uses a magnifying glass to reflect the sun onto a wooden surface. The method of creating an image by burning the surface of the wood is called solar pyrography. Pyrography is more commonly done using electric tools made for this purpose but Jeff not only doesn't require any electricity, he prefers it that way. The only tools that Jeff needs are a piece of wood, usually a round disc, a magnifying glass and of course, the sun.
Unfortunately, the sun is not always cooperative during the winter months in the Pacific Northwest.
I met Jeff in front of the Olympia City Hall where he had arranged to meet with Anne Larsen, outreach services coordinator for the City of Olympia. Anne brought one of his pieces with her. She keeps the hand burned seal of Washington in her office for Jeff. Sadly, he has from time to time had his art and tools stolen and she wants this special piece to be preserved until it is sold. The detailed Washington seal took Jeff over 50 hours to complete and he estimates its value at about $400. One can't help but think it would be perfect for the Governor's office or perhaps in the lobby at the Secretary of State. Jeff and Anne have an easy collegial relationship and she teases him about the upcoming rainy season. "Would you like someone to fly you to Arizona?" jokes Anne. "Maybe Hawaii," is Jeff's smiling reply.
Jeff is well-known on the streets of Olympia and has sold many of his pieces to members of the community. He tells me the story of the day he was standing on a street corner when suddenly four policemen approached him, seemingly from all directions. "I was worried at first and asked them what I had done?" explains Jeff. He was relieved to learn that he was not in a bit of trouble, the Department was just interested in his wood-burned art. Members of the Olympia Police walking patrol had seen him working and shared it with their colleagues. Soon Jeff was burning the University of Washington Husky into a round of wood for Public Information Officer Lieutenant Sam Costello. The Olympia Chief of Police is a proud owner of one of Jeff's pieces and Anne herself has a wood burned Washington State University Cougar emblem in her office.
Each piece takes anywhere from 20-60 hours depending upon its complexity and it is clear from talking to Jeff that he prefers to burn his own designs. Jeff spends hours drawing his own designs and has burned beautiful pieces featuring a variety of subjects from griffins to lighthouses and tall ships. He showed me his latest drawing of a plane that he designed for a client who requested the aircraft. You might think that Jeff would be eager to burn any design that would bring an income. "I don't want to be known as simply a sign maker," shares Jeff. "I am an artist and I like burning my own designs best."
Customers can make idea requests and Jeff will draw out the idea. One recent customer was Olympia resident Whitney Bowerman. Whitney met Jeff through her work at the Interfaith Works Shelter, a coalition of 30 different faiths working together to support the homeless in our community. Whitney volunteers her time on the Advisory Board of the Homeless Services Program and her family brings dinner to the shelter once a month. "I met Jeff and he told me he was working to earn money to purchase a tent so that he could stay dry through the winter," explains Whitney Bowerman. Bowerman asked Jeff to draw her a cat design for her feline loving daughter. He drew her an adorable yin yang cat that Whitney purchased as a Christmas gift.
Jeff's wood-burned City of Olympia symbol was purchased by Mayor Cheryl Selby and is displayed in her office at City Hall. Joanna West of Washington Business Bank has recently put in her order for a handcrafted, wood burned Seahawks sign. She plans to donate it to the Big Brothers Big Sisters of Southwest Washington to auction off at their BIG auction on October 20. Jeff is excited to learn that his art is not only appreciated by his customers, but will be used to help others. If you are interested in contacting Jeff about purchasing your own one-of-kind art he is working on creating a website but can be reached via Facebook.
Sponsored