A stamp cost 20 cents and gas was only $1.25. A new car cost just over $6,000 – about half the average income of $12,000. McDonalds introduced McNuggets. Michael Jackson released his Thriller album. Ronald Reagan was president and Sally Ride became the first woman to go into space. Fraggle Rock was the favorite children's show and Mario Brothers was released. Ghandi won the Academy Award for Best Picture, and Flash Dance, WarGames, Mr. Mom and Risky Business made it a great year for movies.
And Dick Young opened Northwest Sausage & Deli.
It was 1983. "Dad owned Dick's Beef Shop in Grand Mound, across from Maple Lane, doing slaughtering, cutting and wrapping," says Julie Pendleton, Young's daughter who now owns Northwest Sausage & Deli along with her husband, Dave. "He wanted to get out of seasonal work, but he opened a custom game meat business which is just as seasonal," Pendleton says with a laugh.
Young purchased the property on the corner of Prather Road and Old Highway 99. Here, in this empty lot, he designed and built the building he wanted. Pendleton has fond memories of playing with her brother in the dirt there. The original location was smaller than it is now. Young started with a basic selection of products, including summer sausage, Polish and Kielbasa. "He played around with recipes until it was the way he wanted," says Pendleton, smiling. She uses those same recipes today.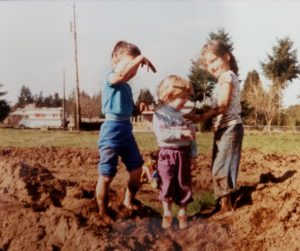 The deli was also smaller, with only five tables. The seating area near Old Highway 99 wasn't there, only the room where deli cases now stand. Sandwiches were the main menu item and the establishment offered all-you-can-eat chips. "Some people would eat the sandwich and then just sit and eat bag after bag of chips," Pendleton says.
As for drinks, "He only sold import beers back then," Pendleton says, "no micro or domestic until we got licensed and sold our own."
The kitchen, where Young made sausage, was expanded around 1995 when the brewery was added. The restaurant seating area was enlarged then as well. The cozy outside deck was added in 2016.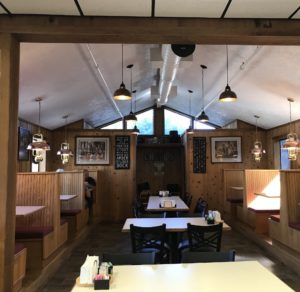 Northwest Sausage & Deli became a full restaurant when dinner service was added in the early 2000s. You can now get hot or cold sandwiches, salads or dinner items such as prime rib. Dinner is offered Thursday, Friday and Saturday evenings, and they're open for lunch Monday through Saturday. They're closed on Sundays.
Pendleton is pleased with the business's success. "For a rather strange location, we're very busy and it has increased. I think it has a lot to do with the beer; people like to look for off-the-path micro-breweries," she muses.
After 35 years of successful business, the Pendletons want to recognize and thank their customers. Northwest Sausage & Deli will be celebrating the entire month of October with different weekly specials. The featured items will be posted on the reader board outside the restaurant and on their Facebook page.
The best part? They're featuring a new promotion, buy one item, get the second for 1983 pricing.
In addition, they'll host a special celebration on October 18 from 5:00 p.m. – 9:00 p.m., as part of the Chamber After Hours event, which will last from 5:00 p.m. – 7:00 p.m. The team at Northwest Sausage & Deli is excited to continue the party. A beer garden will be set up outside, complete with a tent and heaters in case the weather doesn't cooperate. Guests can enjoy hors d'oeuvres, snacks and beer while waiting to see if they win fun raffle prizes. The restaurant will also be open as usual for those wanting a full meal.
This family-friendly event will feature some new merchandise such as t-shirts, sweat shirts, wood signs and pint glasses. And pick up a book of matches marked with the family's slogan since the beef shop, "You can't beat Dick's Meats."
"People love the slogan and they like getting matches," Pendleton says with a laugh. "No one gives away matches anymore."
Pendleton hopes customers visit and share their favorite memories from the past 35 years. One woman shared fond memories of coming in with her father every Friday to get a pepperoni stick. "There are so many fun memories for kids," Pendleton says. "It has that feeling of a Christmas tradition and we want to hear those stories."
Northwest Sausage & Deli
5945 Prather Road SW, Centralia
360-736-7760
Sponsored