With the Northwest leading the way in craft distilleries, it's no wonder Washington has our fair share of them. It seems in recent years almost everyone is curious about the industry and wants to try their hand at it. However, because it's a felony to make alcohol without a permit, very few actually get to do it. But with a new opportunity through Centralia College and Sandstone Distillery in Tenino, just about anybody can learn the basics.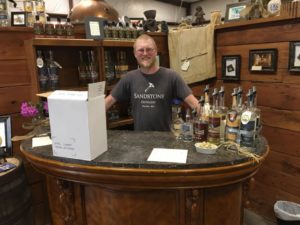 A family run business, Sandstone is the collaboration of John and Jenni Bourdon along with their son Justin. With strong ties to the community already, the team jumped at the chance to work with the college when they approached them with the idea. "Why wouldn't we join and partner with this great local school?" John explains. "We've worked with them in the past on other projects and it's been very successful."
Sandstone already works with the Diesel Tech Program at the college every year. As part of the alternative fuels course, each class makes the trek to the distillery to learn first-hand what an ethanol refinery does. "Because we basically just make a drinkable fuel, but the process is the same," Justin shares. "So, they come up here to see the fermentation distillation. They get to see things first hand and you can literally watch the lights come on."
Because this will be a brand-new program, space will be limited to just a handful of students. Distillers Justin and John say they want to be able to keep it individualized so people can get the most out of it. "If you would like to be retrained in the brewing and distilling industry this is a fairly inexpensive way to figure out whether you like it or not," Justin adds.
Unlike regular quarter long courses, the distilling one will be made up of just two class days. The first being an in-depth tour of the Sandstone facility where students can ask questions and begin to understand the industry. Next, they will come individually or in pairs for a day of hands-on experience. "They'll basically come in and do our distiller-for-a-day course," Justin shares. "They'll do a cook, a stripping run, a final distillation run and whatever else we're doing that particular day, bottling, maybe even some cleaning." As part of Centralia College's continuing education, students will receive elective credit and a certificate of completion. And anybody can take it, you don't have to be enrolled in any specific program.
With very few programs available on distilling, Justin and John hope this is just the beginning of something much bigger. "I would have given my eye teeth, both of them, to have the opportunity to do this," says John. "There weren't any programs here locally when I was learning. I had to fly to Colorado for part of my education. The rest was just hit or miss, trial and error." Talks are already in the works to collaborate with the chemistry faculty at the college in the future to hopefully have a course explaining the science behind distilling. But it's the hands-on experience that will really make the program and Sandstone Distillery is ready to share their knowledge. "It gives someone an opportunity to see if this is a dream they want to pursue or not without a big commitment," John adds.
But why are Justin and John doing something like this when they already have so much on their plate as distillers and business owners? At Sandstone there are no other employees, this family is it and does it all from start to finish. "The expansion of knowledge in a safe environment is what it pretty much comes down to," Justin says.
"It's the satisfaction of curiosity while staying legal and minimizing the danger of working with highly flammable materials," John adds. "It's kind of a two-fold thing so they get to expand their portfolio and we get to expand our potential audience, so hopefully both of us end up winning."
What it really comes back to is the core values the Bourdon family operates their business under. They believe in their community and if they can do their part to improve it they will.
If you would like to learn more about the Distilling course visit the Centralia College website or the Sandstone Distillery website.
Sandstone Distillery
842 Wright Rd SE, Tenino
360-239-7272
Tasting room hours:
Monday, Thursday, Friday and Saturday: 12:00 p.m. – 5:00 p.m.
Sundays by appointment
Sponsored