Saturday, October 20 marks the return of the much-anticipated BIG Auction. This year's theme? A BIG 80's Prom! Do you have your tickets yet?! "What's not to love about mullets, poufy dresses and spiked punch all in the name of helping youth?!" points out Leslie Shahan, event organizer and VP of operations for auction host, Big Brothers Big Sisters of Southwest Washington (BBBSSW).
Attendees to this year's BIG Auction can look forward to retro themed snacks, a photo booth, raffles, and both a silent and live auction. The best part about this year's BIG 80's Auction? It's not over until it's over. This year features a not-to-be-missed after party serving up late night snacks and another round of top 80's tracks.
"It has been a blast to see the growth and excitement around the BIG Auction over the years," says Leslie. "At one time, the event was just a partner to the BIG Swing Golf Tournament. Today it stands alone as the largest fundraiser of the year for Big Brothers Big Sisters of Southwest Washington."
Funds raised during the BIG Auction go towards the organization's continuing mission to help children discover their truest selves and access their own extraordinary potential. They do this through the development of genuine, lasting relationships with volunteer mentors. Big Brothers Big Sisters models in everything they do the belief that all children, even those facing seemingly unconquerable adversity, have the ability and inner power to change their lives for the better.
"Funds raised this year during the Raise the Paddle portion of the auction will be used to establish a new STEAM Learn Lab and companion curriculum," Leslie shares. "Big Brothers Big Sisters is especially excited about this program because it will allow youth to pursue their passions around math, technology, art, robotics and environmental science all in this one space."
The event's growth over the years is due to your generosity. Whether you make your presence known in an epic battle of the bids, quietly write your name down on a tantalizing silent auction time, buy a handful of raffle tickets, or simply gather your friends and family and show up, you are making a difference in the lives of our community's youth.
Need any more reason to attend?  Check out these irresistible auction items:
Private Brunch for 15 at The Mouse Trap
Savor the solitude!  The entire restaurant is yours along with drinks and a 5-course brunch created by Chef Austin Navarre.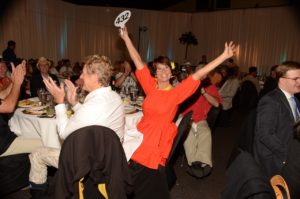 A Tahoe Sunset Snowcat Tour
A private gondola will deliver you up to mid-mountain where you will enjoy a one-of-a-kind private, snow cat tour.  $500 Marriott Hotels gift card included to use towards accommodations.
An 80's Prom Murder Mystery Party
Bring your party of 20 to the Mayor's where the fun the 2018 BIG Prom Auction can be relived with spiked punch, yummy treats, music and of course mystery!
Dinner and Flight for Two
The choice is yours! Enjoy a scenic flight for two on either a plane or helicopter with an unforgettable dinner to follow at Ricardo's.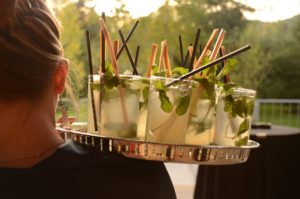 Anyone who has attended a BIG Auction knows how truly extraordinary they are.  Did you know that the auction team works the entire year to make your night one for the memory books?  You may just find this October that giving back to our youth is the most fun you have ever had.
"BBBS wants to give a special shout out to our presenting sponsors, Harbor Wholesale Food and TBG Holdings, as well as our other sponsors, donors, volunteers and of course our community who makes this amazing event and our work at BBBS possible," adds Leslie.
Tickets for the BIG 80's Auction at Little Creek Casino are still available so get them before they're gone! Tickets can be purchased through the Big Brothers Big Sisters of Southwest Washington website. You can purchase tickets as an individual, couple or reserve a table for eight. Fun kicks off on October 20 at 6:00 p.m.
Sponsored