Creating a new beer is a lot of fun. But in addition to the beer, when you come up with a new brew you also need to create a new name and a new label. And that can be just as fun. Julie and Dave Pendleton, owners of Dick's Brewing Company, along with their staff, get a kick out of figuring out names.
"Most names come from just standing around talking or listening to music, Julie says as she explains their "method." "Usually when the boys are working on the line, they have music cranked up and get some ideas from there. A lot of names aren't appropriate so I have to stop that," she says with a laugh. They then research the names before using them to make sure they aren't already in use locally. Dick's Brewing Company's latest beer is called Straight Coastin' Hazy India Pale Ale, a moniker also inspired by music.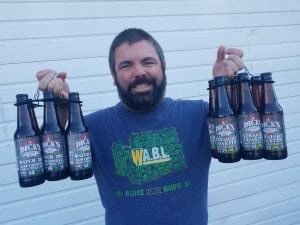 Other times, simply not being able to come up with a name can actually create the name. For instance, one beer is called Batch 202. "They did a beer called Test Batch and didn't know what to call it," Julie explains. "But they served it and it was really good. They tweaked it a little and called it Batch 202."
A few years ago, the team at Dick's Brewing Company decided their labels should all have the same look and feel so customers would recognize they're all from the same brewery. But they made sure to keep those precious pictures on the labels.
With the recent addition of a crowler machine, they decided to do something different for their cans. Working with Brandon Mosby at the Silver Agency, they came up with a rustic chalkboard design. There is a place to write the name of the beer, the date and the alcohol on the 32-ounce can. The company slogan is also on the can: "We drink what we can and sell the rest."
Julie estimates they currently have 15-20 different beer labels and, while keeping tradition alive, they also create new beers all the time. Some are only served at their restaurant at Northwest Sausage and Deli and at the brewery tasting room, never to be mass produced. "It has to be worth it in terms of investment in dollars and in time," explains Julie. For instance, Grapefruit IPA and The Buck were first sold in the deli and tasting room and immediately became big hits, so they were bottled.
While creating new beers and labels, they keep tradition alive – along with the memory of Julie's dad, Dick Young – by continuing their original brews. The picture on the label of Dick's Pale Ale is taken from a photo of Dick and his dad at their farm in Newaukum Valley when Dick was a little boy. "It really has sentimental connections for us," Julie says.
Dick's Double Diamond Winter Ale is labeled with a picture of Dick at a ski resort. And Dick Danger Ale, one of his first beers, was given his nickname.
It can be interesting to know that alcohol labels can't just be made up and used. They have to go through an approval process with the federal agency, Alcohol and Tobacco Tax and Trade Bureau(TTB). The labels must contain the alcohol content (ABV), number of ounces in the bottle or can, brewery name, town and state of brewery, and the pregnancy warning. For beers such as the Grapefruit IPA, Dick's had to add "Brewed with natural flavor." Completed label designs are then submitted electronically to TTB for approval.
The label can be sent back to be fixed if the TTB decides there is anything wrong or missing. Julie says that they got one returned to them because it didn't say "ABV" even though it listed the percentage of alcohol. Leaving the location of Centralia off the label caused another to be returned.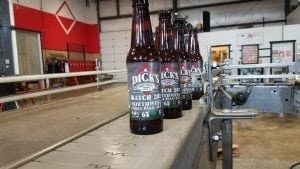 Another creative endeavor that Julie really enjoys is taking part in National Women's Brewing Day as part of International Women's Day. It is held as part of the Pink Boots Society's Collaboration Brew Day which aims to highlight the role of women in the beer industry and provide educational scholarships for women. Dick's staff and family members participate, as do many breweries around the country. Female employees as well as Dave and Julie's moms show up and brew away. "It's so much fun to do," Julie smiles.
Head in to Dick's Brewery Company often to try out their new creations. And now, when you go in to try the new Straight Coastin' Hazy India Pale Ale and Batch 202, you'll know what went into them, from the label approval process to the unique way they got their fun names.
Dick's Brewing Company
3516 Galvin Road
Centralia WA 98531
360-736-1603
NW Sausage and Deli
5945 Prather Rd. SW
Centralia WA 98531
360-736-7760
Sponsored