We're bombarded by news, entertainment, work, family and friends. Instead of giving in to the information overload, take a break with the healing power of music. Better yet, enjoy a live concert with world-renowned musician—and home-grown Olympian—Shoshana Bean when she comes to The Washington Center for the Performing Arts on Thursday, October 4.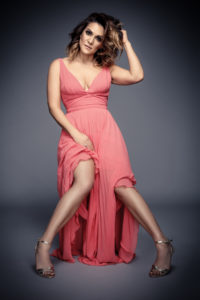 "With so many ways to communicate at our disposal," says bandleader Jon Batiste, "We must not forget the transformative power of a live music experience and genuine human exchange. In a live performance, it's a collaboration with the audience; you ride the ebb and flow of the crowd's energy."
Shoshana Bean has been riding that ebb and flow for many years, having performed with Ariana Grande, David Foster, Postmodern Jukebox, Brian McKnight, and Michael Jackson. She also took Broadway by storm as the green witch Elphaba in Wicked. Other stage roles include leads in Hairspray, Funny Girl, and Beaches.
But before all that, she started out life right here. "I was born and raised for the first nine years of my life in Olympia, Washington," says Bean. "My family goes back quite a few generations so it's always very exciting to come home and perform in my hometown. I enjoy this particular region because I get to see my family, eat at my favorite restaurants and stock up on Archibald Sisters lotions and gifts!"
The Washington Center show will feature music from her new album Spectrum. Recently released, this tribute to the Big Band is already debuting at number one on the Billboard Jazz chart. Full of classics and standards, it's inspired by Frank Sinatra, Aretha Franklin and Barbara Streisand.
"People can expect to hear music off my new album, which features some familiar contemporary and classic songs," says Bean. "I will also feature a few originals, some of my older material, and a couple surprises!"
Afterwards she'll be on-site selling and autographing music and collectable merchandise. Tickets to the show range from $27 to $47 and are available online or by calling 360-753-8586. The Shoshana Bean performance kicks off the 2018-19 season and to celebrate, The Washington Center will be offering a free glass of champagne or sparkling cider to all who attend!
After Olympia, Bean gets to enjoy a well-deserved week-long vacation before heading on the road again. She'll hit New York, Nashville, Las Vegas, Los Angeles, and Dallas. But despite the difficulties of life on the road, she remains "excited and grateful" for continued opportunities to perform.
It's estimated that between 2011 and 2017, nearly 67 million concert tour tickets were sold worldwide. Researchers show that "Despite the industry-wide shift in consumer spending, the growth of live music looks to continue unimpeded for years to come, as real-life experiences encounter a surge in popularity."
Follow Bean's journey via her tour calendar and updates on Twitter, Facebook, Instagram, and Snapchat. Listen to songs through her website, or enjoy concert performances and music videos on her YouTube portal.
To see what's playing at the Washington Center, check out their event calendar. Sort by date, genre, series, or venue. Theater junkies can even sign up to volunteer at shows, gallery openings, school plays, and regional recitals.
Listening to music is more than just fun. Studies shows that it makes you happier, lowers stress, improves health and sleep, reduces depression, and strengthens memory and intelligence. Come kick off autumn's celebratory season with a night on the town. Consider it a pre-holiday staycation, complete with champagne and the best of the American songbook.
The Washington Center for the Performing Arts is located at 512 Washington Street East in downtown Olympia. The Box Office is open from noon to 5:30 p.m. every Tuesday through Saturday.
Sponsored