Joel Mellin has been the starting right tackle at River Ridge High School for the past two seasons. On the opposite side of the 6-foot-4, 325-pound Mellin at left tackle is the 6-3, 235-pound Herb Polu.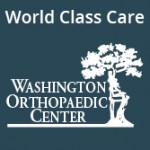 Both also start on the defensive line for the Hawks. During games neither leave the field for very often, meaning off-season conditioning was paramount. This act proved to be difficult at times, however. Not due to the physical activity, but because of one constant factor.
"He's always telling jokes when we run. Goal line and back, he'll have everyone on the team laughing," said Mellin, pointing to the nearby Polu, whose wide grin more than supports the claim.
"We've just finished practice, we're tired. I'm trying to get through these sprints," Mellin said. "And every time, he's trying to make me laugh."
Both sides admit Polu almost always succeeds in accomplishing his goal of making his teammate crack and break character.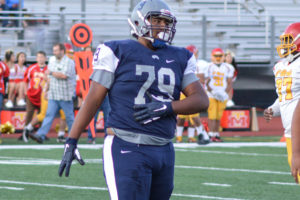 "It usually works. It does help. Workouts are tough and Herb makes them easier. It really is great having him around," Mellin said. "I'm the one telling everyone we need to get this done, and he's joking with them. I'm always the serious one. Herb's always the funny one."
The duo, while polar opposites in regards to their approach to wind sprints, provides River Ridge with one of the best linemen tandems in the 2A South Puget Sound League this year and are two very large reasons why the Hawks are one of the league favorites in 2018.
"They're incredible young men," River Ridge head coach Steve Schultz said about Mellin and Polu. "Great teammates. Friends to everyone."
Their friendship formed on the football field almost immediately after Polu moved to Lacey from Louisiana during his freshman year.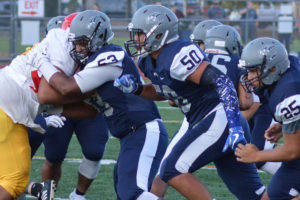 "The first day I saw him, it just clicked with us," Mellin said. "We started talking and once I knew he was interested in football, I knew we were going to be close."
"This isn't my friend," Polu added. "This is my brother right here. We always stick together. We always play as one. He's been there for me and always has my back. We're brothers for life."
Knowing what was going to be required of them this football season, they spent the past summer with a primary focus on conditioning. They relied on each other. When one was disinterested, the other was there to provide the motivation. When one needed a ride to the school to work out, the other provided the taxi service.
It's an approach, however, that's not just contained to Mellin and Polu, but something they do with the entire team.
"We just help each other out," Mellin said. "If you give someone a ride and when you go to pick him up and he's not ready, you force him to get ready so we can get going and get to work. You have to be this way. Some days you don't want to be there. One day I might not be at 100 percent, but Herb will be 100 percent. The next day it will change. It goes back and forth, but one of us will be up, usually it's both."
Mellin and Polu both have very specific reasons for doing this.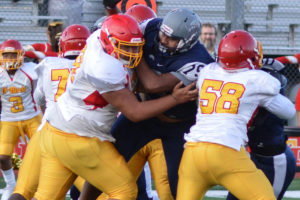 "We want this team to connect more as a family," Mellin said.
"The linemen are close," said Polu, who was a first-team all-2A SPSL defensive lineman as a junior, "but we want to show love to everyone on the team. Love is contagious."
And so is winning the last four years at River Ridge as the Hawks are seeking their fifth consecutive trip to the Class 2A state playoffs this season.
"I've seen everyone on this team mature as players since last year. We've grown up. We know what we are doing out there," Polu said. "Our expectations are very high this season."
Added to the belief that this could be the team's year is the fact that River Ridge returns nearly every starter, including 11 players who received all-league honors in 2017, from a squad that went 7-3 last season and defeated White River (35-27) in a district playoff game before losing in the first round of the state tournament to perennial powerhouse Archbishop Murphy in the first round.
"Everyone is looking at us because of last year," Mellin said. "We work every day to meet those expectations and even beyond that. We have to become better than we were last year as a team and as a family."