You probably already know that South Sound YMCA is an awesome place to be. Not only are they dedicated to our health and well-being through dynamic events and programs, but they are also dedicated to our community, always aimed at making positive connections that will last a lifetime.
This month, the YMCA team talks seniors, aquatics and all that the YMCA offers to support healthy living, no matter your age or fitness level. Senior Programming Director, Michelle Gibson, shares what healthy living means to her.
"To me, healthy living is all about developing and improving life-long habits that lead to better physical, emotional and spiritual wellness," Gibson says. "There is no one-size-fits-all approach to attaining that goal. That is why at the YMCA we strive every day, in everything we do, to meet people where they are."
One of the ways the YMCA does this is through senior-specific programming. Their offerings are beyond extensive, reaching out to every ability and interest. From pickleball to ballroom dancing, gentle chair yoga to group fitness classes, the YMCA knows what seniors crave when it comes to discovering their healthiest selves.
"One of our most popular classes," shares Aquatics Coordinator, Jackie Barratt, "is our senior aquatics class, Joints in Motion. The instructor, Theresa Hoder, will be 70 next year and is one of the most energetic and caring people I know. She teaches three water exercise classes back to back every Monday, Wednesday and Friday. Theresa is nothing less than incredible and her classes are all top notch."
"At the Briggs facility," adds Barratt, "we are brimming with seniors and they love being here! Water exercise, yoga, classes like Moving for Better Balance, our masters swim team- all these programs are full of active older adults who have created a community all their own here. They hold birthday parties in our lobby, enjoy monthly lunch dates and host senior picnics. The YMCA is of course a fun place for them to come and exercise, but it is also the place where they come to see their friends."
Mel Smith, Masters Swim Team Coach, agrees with Barratt, seeing the value of the YMCA extending far beyond its healthy benefits.
"The YMCA is a great place for seniors," says Smith, "in part, because of the multitude of programs they offer, but mostly because of their guidance. The YMCA really encourages seniors, and all members for that matter, to participate in not only the YMCA community but the greater community as well in truly meaningful ways."
One of the most exciting ways for seniors to participate in the greater community is through volunteering and competing in the annual Washington State Senior Games.  Athletes from all over, age 50 and older, train each year to have the opportunity to show off their talents at the games.  This year's event took place on the third weekend in July and South Sound YMCA proudly hosted the swim meet portion of the games at their Briggs location.
"We had over 20 YMCA staff and community volunteers who spent many hours preparing for this year's event," says Barratt, "It was such a success! I only had a small role to play, but I am proud to have been a part of the event and see it come to fruition. Our masters swim team coach, Mel Smith, was instrumental in the hosting of the swimming portion of the Senior Games here at the Briggs YMCA. Mel is 75-years-old and currently coaches our masters swim team Mondays, Wednesdays and Fridays as well as coaching both the girls and boys swim teams at Olympia High School. Swim meets of any size are always long days, spent on a hot pool deck, and it was great to see everyone come together to make it happen this year."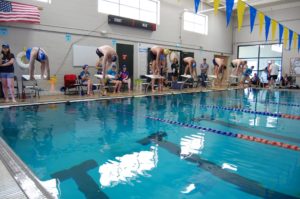 The Senior Games are a model of the healthy living values that South Sound YMCA is founded on. It is also a thriving example of how a commitment to regular participation in physical activities can lead to something quite extraordinary.
Swimming isn't the only discipline featured at the Senior Games, however. Athletes can compete in track and field events, archery, dancing, cycling, rock climbing, basketball, cowboy action shooting and so much more. Visit the Washington State Senior Games website to read more about this year's performances and discover ways you can get involved next year.
No matter your age, no matter your interests, no matter your level of fitness, the YMCA is here for you. "The YMCA really is a home away from home," explains Gibson.
The YMCA can help you train for your next competition, keep you active and moving, or simply be the jumpstart to lasting friendships. Visit the YMCA in person, either on Plum Street or at the Briggs location on Yelm Highway, or explore what they can do for you at the South Sound YMCA website.
Sponsored