Addison Robertson didn't think she'd make the varsity volleyball team last year at North Thurston High School.

She thought she might have an outside chance to split time between the JV and varsity, but no way was she going to be a full-time starter. Not as a freshman.
"I thought maybe I'd be a swing player," Robertson said. "I wasn't really expecting too much last year."
Not only did Robertson make the varsity squad, she hardly ever left the court. She was such a dominating force during her first year of high school volleyball she was named first-team all-3A South Sound Conference.
"I didn't think we were going to have any hitters last year and in came Addison," senior Elana Fairchild said, "and she was amazing."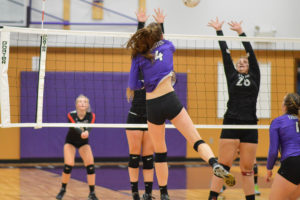 Robertson wasn't the only Ram to far exceed their own expectations in 2017. The entire team did that.
Last year, a very young North Thurston squad, which featured just one senior on its roster, navigated through a loaded SSC and West Central District to advance to the state tournament.
Now, the question marks the Rams had last year have since turned into exclamation points, dramatically raising North Thurston's expectations as a team in 2018.
In addition to Robertson and outside hitter Fairchild, who was a second-team all-conference pick last year, North Thurston also returns junior libero Lauren Porter, the conference's co-defensive MVP in 2017, along with a bevy of talent from a team that will be looking to make its third consecutive trip to the state tournament – something the program has never accomplished before.
"The chemistry is already really good because we've all been playing together for so many years. We click so well," Fairchild said. "The communication is really good, which usually takes a while to develop."
Despite their young ages, the Rams played their best volleyball last year when it counted the most. By the time the postseason hit North Thurston, the team had found its stride, which has turned into a trend for the program under head coach Jaqueline Meyer.
"Usually, it's the end of the season when the energy gets turned up," said Fairchild, who is one of eight seniors on the team, "but we're already doing so good. So, it's exciting to think about what we can do this year."
Tops on Fairchild's list is to leave state with some hardware.
One thing that will go a long way in making that happen is the Rams' much-improved offensive play.
"The big difference in our game this year is that last year we were a really good defensive team," Meyer said. "This year we have multiple hitters along with our defense that makes it hard for teams to defend us."
Robertson will once again provide plenty of offensive pop for North Thurston and – with the added benefit of a year of experience – she should once again be one of the conference's top hitters.
"She has really grown as an all-around player and is improving everyday with her confidence and ability to pass the ball as well as be a power hitter," Meyer said.
"With Addie" Porter said, "whenever she gets the ball, she's going to put it away. She's going to do something smart with it."
But unlike last season, when Porter, who finished with a team-high 512 digs and 34 aces, looks to make a pass this year she will have several additional options outside of Robertson.
"We added a few more hitters this year that make us a more of a force to reckon with in the front row. [Senior] Rokki Brown is hitting the ball on the right side and is really embracing her role as a blocker. She is having fun and that has really elevated her game," Meyer said. "We moved a freshman setter (Calyne Schmidt) from last year to middle blocker. She and Lucy Mueller have really impressed the coaching staff with their ability to read the net and put up big blocks."
Senior setters Brooklyn Harn and Mackenzie Campbell are also back from last year and, according to Meyer, add valuable leadership with their ability to motivate the entire roster, in addition to their play on the court.
"We are a cohesive unit. There is a lot of bonding and unity with all the players," said Meyer, who labeled Fairchild and Porter the heart and soul of the group. "They believe it's about us rather than it's about me. They celebrate each other and pick each other up. They have cheers for each other on the court and even the ones off the court are cheering and excited. They all understand they have a role and accept that role. It builds motivation and allows the players to bring out their best more often because they are playing for the people around them."