If quarterback is considered the glamorous position in football then the scout team running back has to be viewed as the polar opposite.
That's not to downplay the value of any member of the scout team offense. Far from it. The scout team is an integral part of a team's success, albeit their efforts and valuable contributions typically go unseen by those on the outside.
It's the scout team's job to get the first team defense ready for that week's opponent. They do this by learning the plays on the fly, usually with a patch work offensive line, all with the hope of giving the starters the best look possible.
This, however, proves to be difficult as you are learning the plays in the huddle moments before executing them.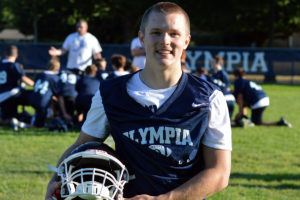 "When you're on the scout team," Olympia High School head coach Steve Davis said, "you're lucky to gain a yard."
Lambs to the slaughter some would say.
Two years ago, whenever the Bears needed someone to step up and carry the ball for the scout team, then-sophomore Garrett Iyall was always the first in line.
Sometimes he paid for it.
"I definitely did take a couple of big hits from some of the bigger guys," Iyall said. "Clay Markoff, who is now playing at Washington State (University), got me a pretty bad a few times when I was a sophomore."
Correction. He normally paid for it.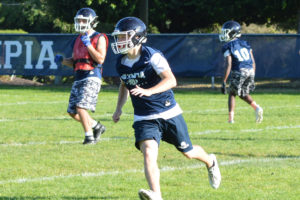 But regardless of how devastating the hit was, Iyall always returned to the scout team huddle, eager to learn the next play.
"I just always kept thinking about the team," Iyall said. "It didn't matter where I was. As long as I could get on the field, I was fine with that. Just put me in there. I'll do anything to help the team."
Iyall is no longer simply fodder for Olympia's first team defense to feast on. Now a senior, he is a two-way starter for the Bears this season, playing running back and free safety.
His mindset, however, hasn't changed one bit – if he can doing anything to better the team, he will.
"Garrett is one of our hardest working kids. He's been that way all four years here," Davis said. "He came to us with a lot of talent, but the thing that's really separated him is his work ethic and what he's done since he got here. It's just been fun to watch him mature as a young man and as an athlete."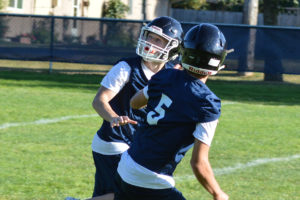 Each season, Olympia has players fill out an application in order to be considered for a team captain. Included in the process is a presentation to the team and coaches.
Iyall was a unanimous choice by his peers as every single one of his teammates voted for him.
"In the last year and a half, his leadership skills have really escalated," Davis said. "Obviously, he has all the respect from his teammates."
The Bears' only returner on offense this season, Garrett was an honorable mention all-4A South Puget Sound League running back in 2017 and while he doesn't mind contact when carrying the football, he does admit to being prone to shying away from taking on any kind of vocal leadership role with the team in the past.
One thing that changed all that was Olympia's smaller-than-usual senior class this season. Last year, the Bears suited up 28 seniors. This year, that number is down to 17, forcing Iyall to step out of his comfort zone.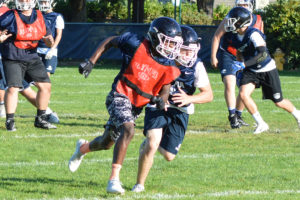 "I think at some point (Garrett) took a look around and realized he needed to be that vocal guy for us," Davis said. "And he's really done a great job with it."
Once again, all for the betterment of the team.
"Coming in, we knew it was going to be a little tough with just 17 kids," Iyall said. "I've always been a quieter guy, but I noticed my role on the team had to change because of our class. So I just try to get all the younger kids involved. It's been great because I've got close to them. We have a lot of young fiery guys that are ready to give it their all."
Obviously, following Iyall's lead no doubt.
Despite several new starters and one of the smallest senior classes in recent memory, the Bears opened up their 2018 season with a 35-7 victory over Emerald Ridge.
"Ever since I got here, I just tried to do anything the coaches tell me to do. I'm going to every workout that I can and I tried to learn from the older guys as much as I could during my sophomore and junior years," Iyall said. "It's just all paying off now."