Backyard games, water balloons, sleepovers, s'mores, picnics. Why do kids get to have all the fun for summer? I mean, seriously. Just look at your Facebook feed. In addition to all the amazing clinics and classes around town, kids have day camps, overnight camps, even specialty camps to explore. Quite frankly it's just not fair.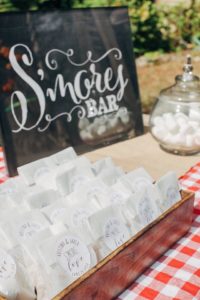 Well when Ashley McCabe of Oly Events was approached by a client to help plan her annual summer themed party, she knew just what to do. A summer camp inspired backyard party, but just for the adults! That's right – think of all those fun games and activities your kids partake in or maybe you did as a kid, only with a twist. Giant Jenga, quarterback toss, painting with squirt guns – all fueled by a gourmet s'mores bar and craft cocktails with friends.
If you are like me, who has the time to plan a party? Between juggling a full-time job, running the kids' activity shuttle, grocery shopping, and all the other fun adulting I do daily, I barley have time to attend parties, let alone plan them. This is why hiring someone to take your vision and make it a reality is a fabulous solution.
An event coordinator, like Oly Events, is not just for weddings or large corporate events. They are like your hidden hostess creating unique handmade décor, ordering supplies, setting-up, serving, and cleaning-up so that you can enjoy your party and company. It is all the fun of hosting without the fuss. Basically, you get to be a guest at your own party – now how great is that?!
Themed parties and special events, like the summer camp for adults, are Ashley's favorite. "It is the most intimate experience you can create for someone – and it is affordable on any budget," she explains. Ashley has planned and coordinated parties and showers for as few as 10 people and it all starts the same way – getting to know the client and their needs. With Oly Events you are in the driver's seat and everything is customizable. You have as little or as much control and involvement as you desire.
Make your next party one that you and your guests will enjoy. Request a complimentary consultation from the Oly Events website or get social and be inspired by some of Ashley's latest work on Pinterest, Instagram, or Facebook.
Sponsored