Many of us can attest to the calming effect of being outdoors. After losing both of her parents at a young age, author M. Jackson wrote in her book, "To make sense of the here and now, it's best to look out there…Again and again, I find comparisons between my present state and the surprises of nature."
Recent studies have even shown the physical and emotional benefits of spending time in the natural world. Local nonprofit Wild Grief has put this knowledge to action by facilitating peer groups for kids and adults who are grieving a death by offering space for sharing, connecting, and healing in nature.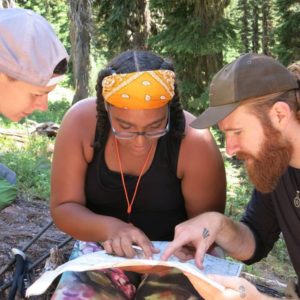 "When we are in nature, we get a sense of how we are a part of it," says board member and facilitator Karen Kirsch. "In nature, we're watching all the cycles. We're watching the emergence and the death, and it gives us such a big holding space, like it can hold everything."
So each month, facilitators from this entirely volunteer-run group host a "hike habit" – a chance to connect with other grievers while hiking in nature around Thurston County.
"It's a lot easier to talk about something heavy when you're walking side by side with someone," says president Breanna Trygg about grief and hiking. Wild Grief began their monthly hike habits last January, and their August hike was their largest groups yet with 21 participants.
Also in August, Wild Grief facilitated two teen wilderness treks in the Goat Rocks area of the South Cascades. This was their first year guiding backpacking trips for teens. The first group this year had seven youth hikers, and the second had five hikers, accompanied by four adult guides each with different skills in grief facilitation, wilderness leadership, and survival.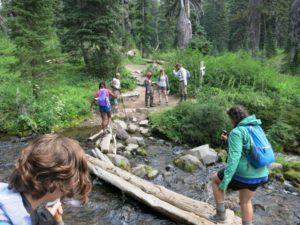 The four-day backpacking treks allowed for plenty of time for the group to work through what are called the Four Tasks of Grief. "It's really the job of mourning," says Jim Cubbage, one of the trek guides and founders of Wild Grief. "The first task is to accept the loss, and that's the first day. We tell them the first day is gonna be hard. We just keep going back to the metaphor of the hike, and you know the first day is really hard. These are all youth who haven't done any backpacking at all. The first day is 1,000 feet up, four miles."
"But I'm always astonished how fast the group forms. We introduce them to each other and we say here's an opportunity that you may not get again. You're with a bunch of people that you don't have to explain yourself to. This isn't like school. You don't have to be guarded. Just be kind to each other. And they just grab that and they're totally kind to each other. It's kind of magical," Jim adds.
Wild Grief offers these backpacking trips at no cost to teens or their families, thanks to grant funding from the Safe Crossings Foundation, the Nisqually Tribe, and the Washington Trails Association, who provided a food grant plus backpacks and gear from their equipment bank.
"I think for teens on the backpacking trip, they are out there taking care of themselves, they're carrying everything on their backs, they're cooking their own food, they're putting up their own shelter, and they're learning how to survive," says Breanna. "It's a very empowering thing at a time when they're struggling and have dealt with this death that kind of threw their world off axis. It gives them a chance to have a sense of self and sense of ability in how they can control or hold themselves in the world."
Jim tells the story of a teen hiker who shared that she has had a lot of people tell her to find her safe place and her happy place. "She said, 'I didn't really know what they were talking about, happy place, what is that?' And then she looked around the circle and she said 'I now have a happy place.'"
Many of the organizers behind Wild Grief have been impacted by loss at some point in their lives, and they all met through their work with Sound Care Kids, a local grief support group for families and children. Breanna, who lost her dad as a kid and went to a children's grief group, says she is lucky to have that experience and to know the impact it can have.
Jim, who lost his mother at age 10, says he did not experience much grief support, but that it was the wilderness that really saved him. "I was kind of lost for 15 years, then I started really being in the wilderness, in Alaska. I was a biologist. That brought me back to ground," he says. It was during their mutual work in Sound Care Kids that Jim suggested wilderness trips as another kind of support group.
Three years later, after much planning and fundraising, Wild Grief has now finally got their literal and figurative boots on the ground. "I'd say we are a new, growing organization," says Breanna. "And we really feel like we're bringing a space for our community to hold grief in a different way, and to build ritual and space for grieving in our community. So we really want to keep growing and keep building this work."
To keep growing, Wild Grief plans to continue seeking grants, donations, and other volunteer support from the community. They also plan to host a fall celebration fundraiser on Saturday, October 13. Thanks to the work of Wild Grief, they're able to manifest their motto: "Go outside, go together, go through it."
More information on upcoming monthly hike habits, quarterly day-hikes, and other events can be found on their website and the Wild Grief Facebook page.